From the 30th September until the 2nd October 2014, Spink London held its flagship auction of World Banknotes for this year.
Over the three days, an astonishing catalogue of over 2200 lots was auctioned to achieve numerous impressive results, many well above their pre-sale estimate.
The first two days were devoted to material from a multitude of sources. Highlights included a 50 piastres note from the National Bank of Egypt (Lot 482). This early note from 1899 includes the exceptionally rare Palmer signature, of which only around 8 are known. Achieving more than double its pre-sale estimate, the note realised £37,200.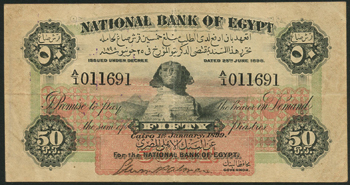 Lot 482
Price Realised: £37,200
Another impressive item on offer was an extremely rare Asiatic Banking Corporation, Straits Settlements specimen $5 issued from Singapore (Lot 1669). Dated 18- (c.1862), the note contains no serial numbers and borders are printed in several languages. Sold for £36,000, the note gained over seven times its estimate.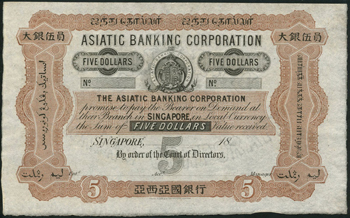 Lot 1669
Price Realised: £36,000
Other high points of the auction came from one of the best known issued £50 notes from the Reserve Bank of New Zealand, 1934, featuring a portrait of the Maori King Tawhiao, which achieved £30,000 (Lot 1394) and an exceptional Qatar and Dubai 50 riyals (Lot 1527), rapidly becoming recognised as being just as rare as the 25 riyals, that realised £34,800.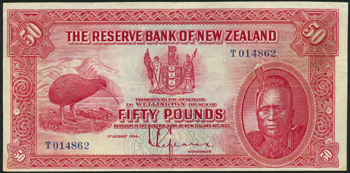 Lot 1394
Price Realised: £30,000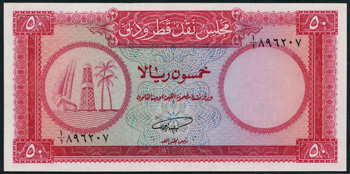 Lot 1527
Price Realised: £34,800
Rounding off the three day auction was a selection of over 400 lots from Britain. Featured amongst the range on offer was a 1930 10 shillings from the States of Guernsey (Lot 2067). In auction for the first time, this variety is virtually unknown by most experts and collectors. Achieving over triple its estimate, the unlisted note realised £11,040.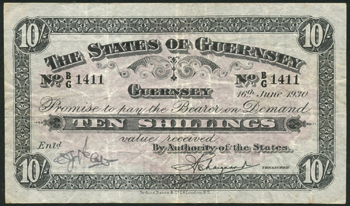 Lot 2067
Estimate: £11,040
Another highlight from the British section included a very early £10 from the Bank of England, signed by Frank May, the then chief cashier, and dated 1888 (Lot 1866 - price realised £9,000)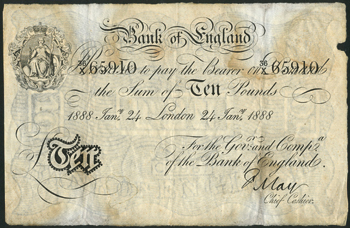 Lot 1866
Price Realised: £9,000
About Spink
Spink is the world's leading auctioneer of stamps, coins, banknotes, medals, bonds & shares, autographs, books and wine. Since its foundation in 1666, the Spink name has become synonymous with tradition, experience and integrity. Holder of royal warrants and numerous records for prices achieved at auction, Spink offers an unparalleled range of services to collectors worldwide. Headquartered in London, with offices in New York, Switzerland, Hong Kong and Singapore, Spink holds over 70 auctions a year. Catalogues can be accessed through the Spink website (www.spink.com) or via the Spink App for iPhone and iPad.
For Press Enquiries, Please Contact:
Ed Rivers
Advertising, Marketing & PR