Following the success of World Banknotes sale in July, Spink London will hold its flagship sale, a three day auction of World Banknotes, from the 30th September to 2nd October 2014.
Amongst an impressive range of over 2200 notes, essays, specimens and archive groups from around the world, the auction will feature notable collections from Maurice Muszynski, one of the most prominent French paper money collectors and experts in the field.
Divided into two catalogues, the first two days are devoted to collections and single items from a variety of countries, including the unique collections of French West Indies & Reunion and Lebanon & Syria from Muszynski.
Barnaby Faull, Spink Specialist, comments; "We have not had a collection of French Colonies for many years and this is certainly one of the best ever assembled of these lovely notes. The Lebanon and Syria also include some completely unknown proofs for notes which were never made." For a full interview with Barnaby Faull, please click here to watch the auction podcast.
A highlight from the Muszynski collection is a Lebanese 'carpet' note, a specimen 100 livres from the Banque de Syrie et du Liban (Lot 1111). Printed in beautiful and vivid colours in an ornate Arabesque design, the stunning example is very rare and is one of only 30 known. Estimated £3,500 - £5,500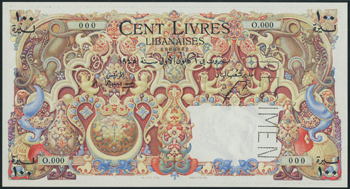 Lot 1111
Estimate: £3,500 - £5,500
Also on offer is an archival group including over 100 essays for banknotes that have never been made. A highlight is an obverse essay for £1 from the Bahamas (Lot 77). Featuring a portrait of King George V, the unique essay is executed exceptionally by hand. Valued £5,000 - £6,000.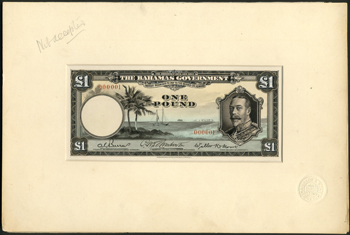 Lot 77
Estimate: £5,000 - £6,000
Other notable highlights include a 50 piastres note from the National Bank of Egypt. This early note from 1899 includes the exceptionally rare Palmer signature, of which only around 8 are known (Lot 482 - estimated £10,000 - £15,000). Also included is one of the best known issued £50 notes from the Reserve Bank of New Zealand, 1934, featuring a portrait of the Maori King Tawhiao (Lot 1394 - estimated £20,000 - £25,000).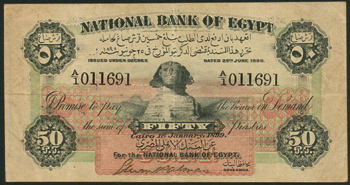 Lot 482
Estimate: £10,000 - £15,000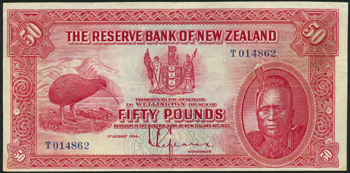 Lot 1394
Estimate: £20,000 - £25,000
Rounding off the three day auction will be a varied selection of over 400 lots from Britain.
Highlights include a very early £10 from the Bank of England, signed by Frank May, the then chief cashier, and dated 1888 (Lot 1866 - estimated £8,000 - £10,000). Additionally, and quite probably for the first time in auction anywhere, we have a 1930 10 shillings from the States of Guernsey. This variety has never been seen by most experts and collectors and is in superb condition. (Lot 2067 - estimated £3,000 - £5,000).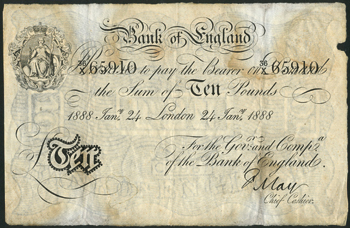 Lot 1866
Estimate: £8,000 - £10,000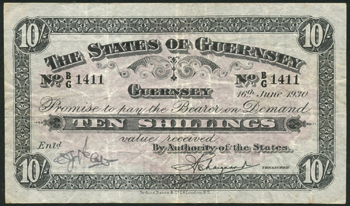 Lot 2067
Estimate: £3,000 - £5,000
About Spink
Spink is the world's leading auctioneer of stamps, coins, banknotes, medals, bonds & shares, autographs, books and wine. Since its foundation in 1666, the Spink name has become synonymous with tradition, experience and integrity. Holder of royal warrants and numerous records for prices achieved at auction, Spink offers an unparalleled range of services to collectors worldwide. Headquartered in London, with offices in New York, Switzerland, Hong Kong and Singapore, Spink holds over 70 auctions a year. Catalogues can be accessed through the Spink website (www.spink.com) or via the Spink App for iPhone and iPad.
For Press Enquiries, Please Contact:
Ed Rivers
Advertising, Marketing & PR