Today, 23rd September 2014, Spink London completed two days of varied numismatic sales featuring 'Ancient, British & Foreign Coins and Commemorative Medals'.
Estimates were exceeded, in many cases doubled, from a wide range of historic coins of the highest quality. Most notably was a 5-Guinea from the reign of Charles II, dated 1674 with edge dated VICESIMO QVINTO (Lot 404). Amazingly, this date and edge combination has not been recorded in any public or private collection before, making this coin extremely rare and possibly unique. Selling for over five times its estimate, the newly discovered edge variety sold for £50,400.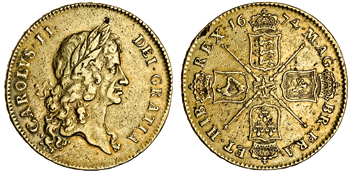 Lot 404
Price Realised: £50,400
From an array of English hammered gold coins, impressive highlights included a Triple Unite of Charles I (Lot 341, price realised: £54,000, highest earning lot of the day), a very rare Edward VI sovereign (Lot 65, price realised £36,000) and an extremely fine Rose Ryal of James I (Lot 321, price realised £25,200).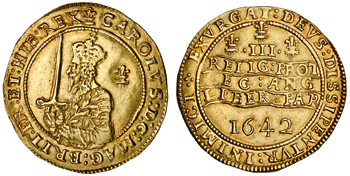 Lot 341
Price Realised: £54,000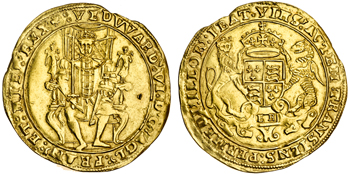 Lot 65
Price Realised: £36,000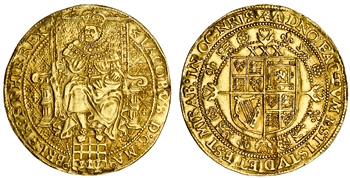 Lot 321
Price Realised: £25,200
Offered amongst the range of Anglo Saxon and later medieval coins was a very rare Coelwulf II Penny from the Cuerdale hoard (Lot 91). With a splendid portrait of this little known Anglo Saxon ruler, the last King of Mercia, the coin is seen as one of the finest specimens of its type and has a superb provenance of 174 years. The penny achieved £18,000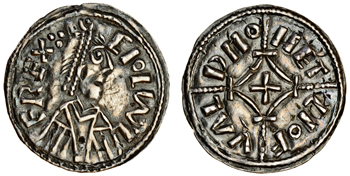 Lot 91
Estimate: £18,000
The second day continued with ancient Greek and Roman coins, Islamic and Indian coins and in the afternoon general world coins with an attractive group of European medieval French and Flemish gold coins from the collection of the Late Sir Richard Ground O.B.E.
Highlights included an extremely fine gold Alfonsino or Ducatone of Alfonso I of Aragon (lot 1030, price realised £ £13,200) and very rare, with only six examples recorded, gold Angel of Philip le Hardi (lot 1037, price realised £15,600).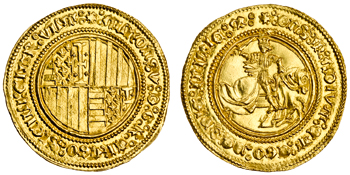 Lot 1030
Estimate: £13,200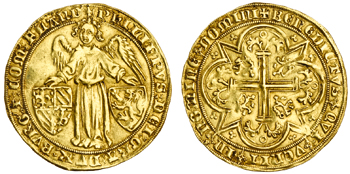 Lot 1037
Estimate: £15,600
About Spink
Spink is the world's leading auctioneer of stamps, coins, banknotes, medals, bonds & shares, autographs, books and wine. Since its foundation in 1666, the Spink name has become synonymous with tradition, experience and integrity. Holder of royal warrants and numerous records for prices achieved at auction, Spink offers an unparalleled range of services to collectors worldwide. Headquartered in London, with offices in New York, Switzerland, Hong Kong and Singapore, Spink holds over 70 auctions a year. Catalogues can be accessed through the Spink website (www.spink.com) or via the Spink App for iPhone and iPad.
For Press Enquiries, Please Contact:
Ed Rivers
Advertising, Marketing & PR