During the annual COINEX week, Spink London will hold a two day auction of 'Ancient, British & Foreign Coins and Commemorative Medals', a varied sale of over 1200 lots that covers almost every genre in coin numismatics.
Spanning over two days, September 22nd and 23rd, the first session includes a splendid array of English hammered gold coins.
Highlights include no less than three Sovereigns of Henry VIII (lots 52, 53, and 275), other Sovereigns of Edward VI (lot 65), Mary (lot 69), and Elizabeth (lot 294), as well as two Rose Ryals of James I (lots 316 and 321) and two Triple Unites of Charles I (lots 341 and 342).

The Anglo Saxon and later mediaeval silver coins, while not generally as eye catching as the gold are equally as interesting. The highlight here is without doubt lot 91, the very rare Coelwulf II Penny from the Cuerdale hoard with a splendid portrait of this little known Anglo Saxon ruler, the last King of Mercia.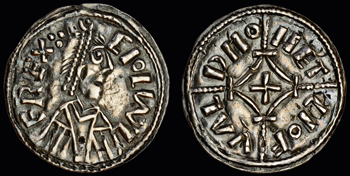 Lot 91
Estimate: £15,000 - £18,000
In the afternoon of the first day the session of English milled gold coins starts with a newly discovered 5-Guineas of Charles II, dated 1674 with edge dated VICESIMO QVINTO (lot 404). This is the only coin known with this date and edge combination.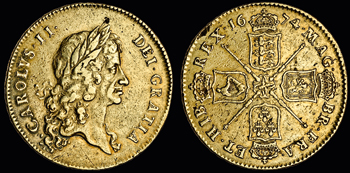 Lot 404
Estimate: £10,000 - £15,000.
On the second day the sale continues with ancient Greek and Roman coins, Islamic and Indian coins, and in the afternoon general world coins.
There is an attractive group of European medieval French and Flemish gold coins from the collection of the Late Sir Richard Ground, including a delightful gold Angel of Philip le Hardi (lot 1037) and from Naples a really sharp gold Alfonsino or Ducatone of Alfonso I of Aragon (lot 1030).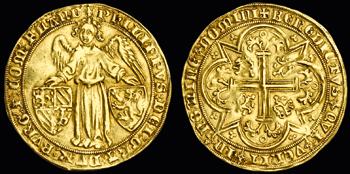 Lot 1037
Estimate: £8,000 - £10,000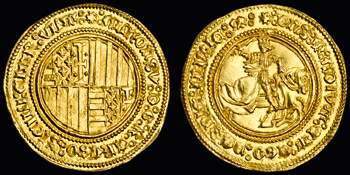 Lot 1030
Estimate: £1,500 - £2,500
The 8-Reales of Mexico dated 1733 with the MX mintmark (lot 1143) is a great rarity and will no doubt interest both the collectors of Mexican coins and the more general collectors of Crown size (or Dollar size) silver coins of the world.
Lot 1143
Estimate: £15,000 - £20,000
The sale ends with a very rare Turkish gold medal (lot 1216) struck under Abdul Hamid II to commemorate the Opening of the Hejaz Railway in 1908. This rare and attractive medal is in pristine condition.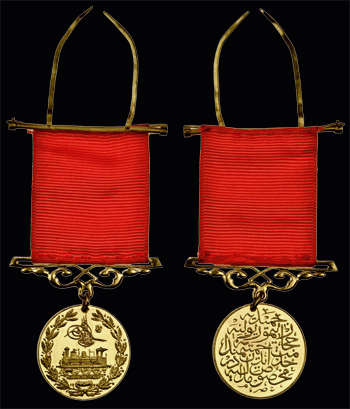 Lot 1216
Estimate: £3,000 - £5,000
About Spink
Spink is the world's leading auctioneer of stamps, coins, banknotes, medals, bonds & shares, autographs, books and wine. Since its foundation in 1666, the Spink name has become synonymous with tradition, experience and integrity. Holder of royal warrants and numerous records for prices achieved at auction, Spink offers an unparalleled range of services to collectors worldwide. Headquartered in London, with offices in New York, Switzerland, Hong Kong and Singapore, Spink holds over 70 auctions a year. Catalogues can be accessed through the Spink website (www.spink.com) or via the Spink App for iPhone and iPad.
For Press Enquiries, Please Contact:
Ed Rivers
Advertising, Marketing & PR