On 21st of August, Spink China auctioned hundreds of banknotes, coins and bonds and shares, with wide ranging provenances, in Spink's Numismatic Collector's Series.
In total, 1,514 lots were offered to collectors and numismatists with many lots exceeding estimates and expectations. The new Spink China showroom was packed with bidders for the sale.
The auction opened with a grand collection of ancient Chinese coinage that had been verified by independent grading companies. Highlights included the highly sought after Taiwan 'Old Man' (Lot 110) and Taiwan 'Ruyi' (Lot 111) Silver Dollars. Both were offered in slabbed form which is extremely rare for coins such as these and achieved fantastic results.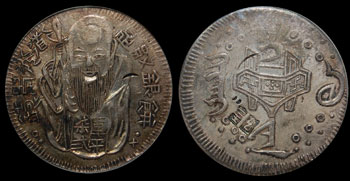 Lot 110
Realised Price: HK$264,000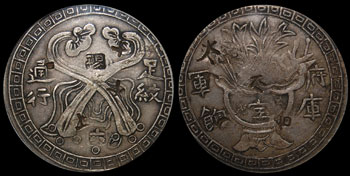 Lot 111
Realised Price: HK$192,000
From a notable section of bonds, featuring many exceptional Chinese external/internal loans, share certificates and paper ephemera, was a very scarce China Mercantile Co, Certificate of $20 shares (Lot 598). The certificate realised HK$120,000.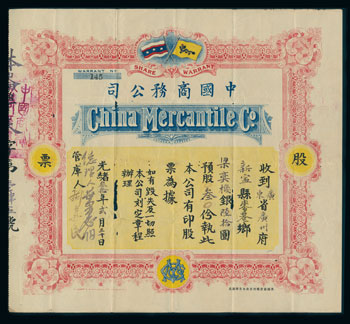 Lot 598
Realised Price: HK$120,000
The largest and strongest section of the auction consisted of a range of fine banknotes from traditional regions of China, Hong Kong and Macau alongside never seen before photographic proofs and beautifully crafted hand-drawn essays.
The star piece was a very rare and iconic 1959 $500 banknote from the Mercantile Bank, of which only 1000 were issued at the time (Lot 1316). Achieving HK$300,000, it was by far the most outstanding realised price of the auction.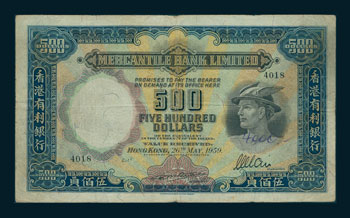 Lot: 1316
Realised Price: HK$300,000
ABOUT SPINK
Spink is the world's leading auctioneer of stamps, coins, banknotes, medals, bonds & shares, autographs, books and wine. Since its foundation in 1666, the Spink name has become synonymous with tradition, experience and integrity. Holder of royal warrants and numerous records for prices achieved at auction, Spink offers an unparalleled range of services to collectors worldwide. Spink is headquartered in London and holds over 70 auctions a year around the globe. All catalogues are available on our website and through our Spink App for iPhone and iPad.
For high resolution images please contact;
Ed Rivers
Marketing, Advertising & PR