On 16th July 2014, Spink London completed a two-day sale of 'World Banknotes'. In addition to over 1000 lots of issued notes, colour trials, composite essays, die proofs and specimens, Spink offered established collections from Sune Persson and Steve Wright.
The first day (15th July 2014) began with a comprehensive selection of banknotes from across the globe accumulated by the late Professor Sune Perrson, an eminent expert on the Middle East and avid collector for over 40 years.
A highlight of this section was a very rare and fine 'Karachi' Issue of 5 rupees, from the Government of India, serial number; BG/53 37601 (Lot 144). With fresh and original paper quality, this 1916 issue realised £3,720.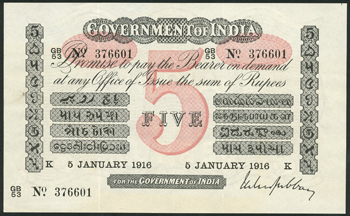 Lot 144
Price Realised: £3,720
Following the Sune Persson collection was a general world section, featuring notes from a multitude of sources, both trade and private. This included an extremely rare pale tan booklet containing 23 specimen 2 rupee notes issued by the Ceylon Government, serial number M/35 00000 (Lot 521). Dated 2nd October 1939, the attractive yet unusual booklet achieved £7,800.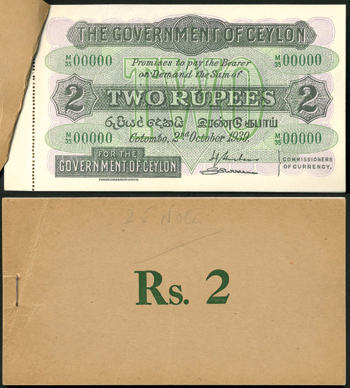 Lot 521
Price Realised: £7,800
The second day brought highlights such as a scarce specimen of 25 riyals from the Qatar and Dubai Currency Board Co. (Lot 996), this example is printed with an exceptionally rare Arabic specimen overprint as well as the usual English. Choice uncirculated, it achieved £12,600.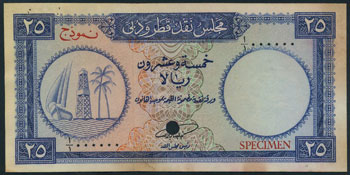 Lot 996
Price Estimate: £12,600
Another impressive item on offer was an exceptionally fine colour trial of $50 from the Board of Commissioners of Currency, Malaya and British Borneo (Lot 851). Dated 1953, the note features a portrait of Elizabeth II and arms of the Federated States on the reverse. Garnering interest from both Spink Live and bidders on the phone, the colour trial realised a price of £12,000, exceeding five times its estimate.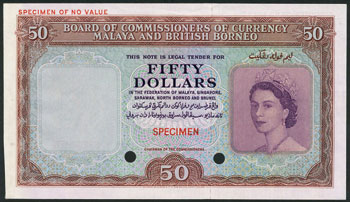 Lot 851
Price Realised: £12,000
Offered towards the end of the 1666 lot auction is the Steve Wright Collection from the Isle of Man, most certainly the largest group of its type ever to be offered in a single session.
Within the collection was a £1 note from Lloyds Bank Limited (Lot 1562). Dated 12 March 1941, it originally belonged to the sister of a young farmer, and WWII recruit, who grew up on the Isle of Man and posted money to his mother as soon as he had been paid by the army. Unfortunately, the news of his death arrived to his mother before the post, which contained his note. She kept it until her death in the 1980's. This poignant note realised £1,320.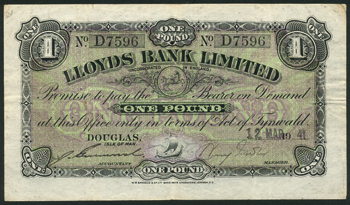 Lot 1562
Estimate: £1,320
About Spink
Spink is the world's leading auctioneer of stamps, coins, banknotes, medals, bonds & shares, autographs, books and wine. Since its foundation in 1666, the Spink name has become synonymous with tradition, experience and integrity. Holder of royal warrants and numerous records for prices achieved at auction, Spink offers an unparalleled range of services to collectors worldwide. Headquartered in London, with offices in New York, Switzerland, Hong Kong and Singapore, Spink holds over 70 auctions a year. Catalogues can be accessed through the Spink website (www.spink.com) or via the Spink App for iPhone and iPad.
For Press Enquiries, Please Contact:
Ed Rivers
Advertising, Marketing & PR