Over the course of the 15th and 16th of July, Spink London will hold a sale of 'World Banknotes', featuring collections of world banknotes from Sune Persson and Isle of Man banknotes from Steve Wright in addition to over 1000 lots of issued notes, colour trials, composite essays, die proofs and specimens.
The auction commences with a half day devoted to a comprehensive collection of banknotes from across the globe accumulated by the late Professor Sune Perrson, an eminent expert on the Middle East and avid collector for over 40 years.
Spink Banknote Specialist, Barnaby Faull, comments "What really sets this collection apart is the condition of these notes, with almost everything in superb grade."
Included in this section is a very rare and extremely fine 'Karachi' Issue of 5 rupees, from the Government of India, serial number; BG/53 37601 (Lot 144). With fresh and original paper quality, this 1916 issue is estimated at £2,500 - £3,500.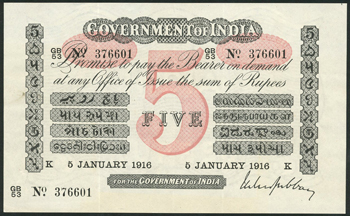 Lot 144
Estimate: £2,500 - £3,500
The rest of the sale will feature notes from a multitude of sources, both trade and private, which together make for a varied and interesting general world section.
Amongst highlights is a magnificent example of a printer's archival specimen of 500 escudos from Mozambique (Lot 898). The note, dated 25 August 1932, features a low serial number run of A00,001 to A020,000 and a portrait of Francisco Oliveira de Chamico on the left. Of the utmost rarity and thought to be unique, the note is estimated £2,000 - £3,000.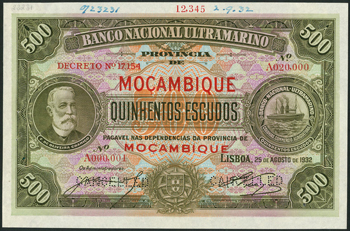 Lot 898
Estimate: £2,000 - £3,000
Another impressive item on offer is an exceptionally rare banknote for 10,000 rubles from the Vladikavaz Railroad Company, in South Russia (lot 1036). Featuring wonderful imagery of the railroad, it is completely original and about uncirculated. It is estimated £8,000 - £10,000.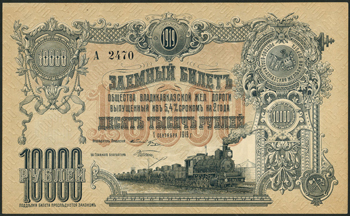 Lot 1036
Estimate: £8,000 - £10,000
Offered towards the end of the 1666 lot auction is the Steve Wright Collection of Isle of Man Banknotes, most certainly the largest group of its type ever to be offered in a single session.
Within the collection is an excessively rare £10 unissued bill of exchange from Beatson Copeland & Co., dated 1811-14 (Lot 1508). Printed in black upon white watermarked paper, the bill contains a detailed vignette of The Old Fort, Douglas at the top centre.
Stated by Quarmby to be one of only 3 believed extant, the bill is estimated £800 - £1,200, the most valuable item offered within this section.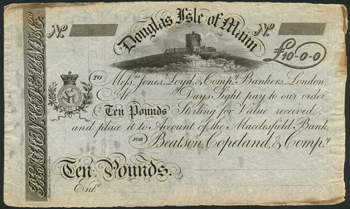 Lot 1508
Estimate: £800 - £1,200
About Spink
Spink is the world's leading auctioneer of stamps, coins, banknotes, medals, bonds & shares, autographs, books and wine. Since its foundation in 1666, the Spink name has become synonymous with tradition, experience and integrity. Holder of royal warrants and numerous records for prices achieved at auction, Spink offers an unparalleled range of services to collectors worldwide. Headquartered in London, with offices in New York, Switzerland, Hong Kong and Singapore, Spink holds over 70 auctions a year. Catalogues can be accessed through the Spink website (www.spink.com) or via the Spink App for iPhone and iPad.
For Press Enquiries, Please Contact:
Ed Rivers
Advertising, Marketing & PR