On July 18th, Spink London is proud to announce a sale of 'Postal History, Autographs and Historical Documents'.
From a varied selection of over 100 lots, the auction offers items of important historic value that are as relevant today as when they were created.
One of which includes the British Airways Ltd. flight ticket "The Rt. Hon. Neville Chamberlain" was issued during his notorious 1938 trip to the infamous Munich conference (3081).
During this, the late Prime Minister signed the Munich Pact alongside Benito Mussolini, French Premier Edouard Daladier and Adolf Hitler, to allow Germany de facto control of Czechoslovakia and a promise that no further acts of invasion should take place.
Upon his return to Britain a day later, Chamberlain landed at Heston airport to rapturous applause, announcing he believed this agreement meant "peace in our time".
However, this "peace" was short-lived with Hitler disregarding the agreement and continuing his expansion across Europe.
A year later, Chamberlain was put in the embarrassing situation of announcing that a "state of war" existed between Germany and Britain. By the time, Hitler occupied Norway and Denmark, Chamberlain was finished as a credible leader.
Completed in pencil capitals, the ticket records Chamberlains flight to Munich at 8:30am on BA/WS "18249" upon self-carbonated paper. The under-half of this ticket was sold by Christie's in 1992 for £13,200.
Spink Specialist, Ian Shapiro, comments "This was one of the most significant and iconic moments in twentieth Century British history."
The historical ticket is estimated £12,000 - £15,000.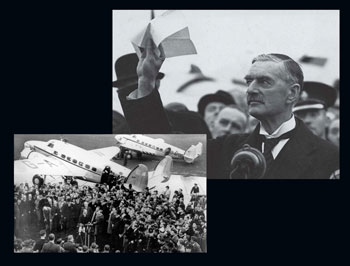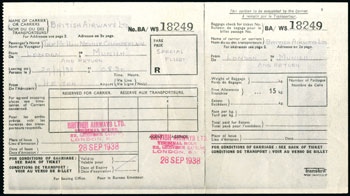 Lot 3081
Estimate: £12,000 - £15,000
Another item contingent with current affairs is a printed letter from the Commission of the General Assembly to the Presbyter of Hamilton.
Echoing today's debate for Scottish independence, the letter contains the conversation prior to the 1707 Act of Union between Scotland and Britain (Lot 3022).
Dated 1706, the letter states that all will be well with discussions for the Scottish union with England, but a reply from the Presbytery states they are not happy with the notion at all;
"As to the Disposition of the People, the plain Truth is, That they are generally most adverse from the Union; and many have expressed themselves broadly against it, as what they fear may prove an irremediable Evil"
The black letter press printing is estimated £250 - £300.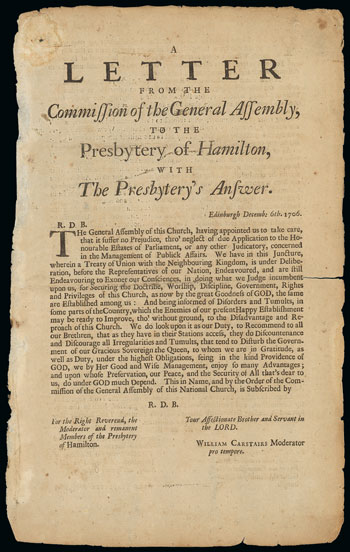 Lot 3022
Estimate: £250 - £300
The auction also contains many unique items that will spark intrigue in the discerning collector. One of which is a leather bound ledger containing hundreds of signatures from recipients of prestigious medals (Lot 3083).
Opening with the Order of the Garter, the book charts a long and dedicated passion for the subject. Tracing signatures from the Royal family, high ranking members of the army and navy.
Created by Lt. Col Robert Sandilands Frowd Walker C.M.G, every medal, whether for honour, gallantry or a campaign is accompanied with a piece of ribbon, details or illustrations of the medal alongside as many signatures from the recipients that could be acquired.
The impressive book of autographs is estimated £15,000 - £20,000.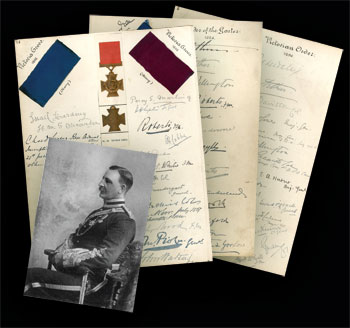 Lot 3083
Estimate: £15,000 - £20,000
About Spink
Spink is the world's leading auctioneer of stamps, coins, banknotes, medals, bonds & shares, autographs, books and wine. Since its foundation in 1666, the Spink name has become synonymous with tradition, experience and integrity. Holder of royal warrants and numerous records for prices achieved at auction, Spink offers an unparalleled range of services to collectors worldwide. Headquartered in London, with offices in New York, Switzerland, Hong Kong and Singapore, Spink holds over 70 auctions a year. Catalogues can be accessed through the Spink website (www.spink.com) or via the Spink App for iPhone and iPad.
For Press Enquiries, Please Contact:
Ed Rivers
Advertising, Marketing & PR