On July 9th, Spink London will hold a philatelic sale of "British Europe Including Long Island from the Vestey Collection", a second session from the important group of auctions offering the Vestey Collection, by Order of the Trustees.
The 444 lot auction commences with a selection of rare single issue stamps, important essays and proofs from Cyprus. Highlights include a fine and very rare 1880 1d. Plate 208 pair, one with omitted overprint, estimated £10,000 - £12,000 (Lot 11), and an impressive 1934 1p. horizontal strip of six of the imperforate between pair variety, estimated £8,000 - £10,000 (Lot 85).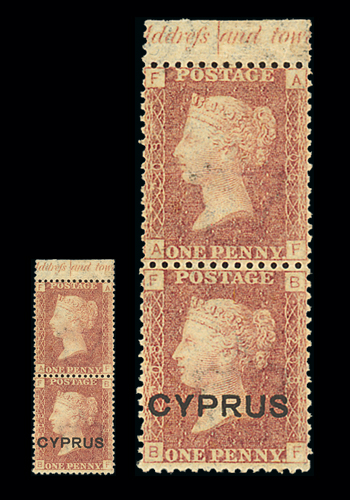 Lot 11
Estimate: £10,000 - £12,000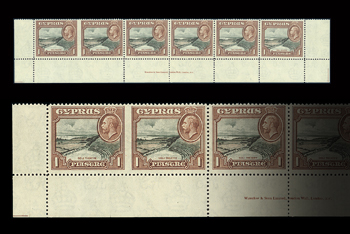 Lot 85
Estimate: £8,000 - £10,000
The auction then moves to focus upon philately from Gibraltar. Amongst the range of notable essays and proofs is an extremely rare £5 violet and black block of four imperforate plate proof, estimated £8,000 - £10,000 (Lot 189).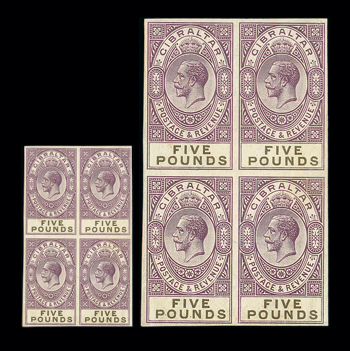 Lot 189
Estimate: £8,000 - £10,000
Following this is a remarkable section of errors from Long Island. One of the errors is a fine and extremely rare 1916 6d. blue, Plate 2, horizontal strip of three (Lot 308). Not only is the example printed se-tenant with 6d. on either side of the 2d. issue, but it also contains the misspelling 'ISLND' for 'ISLAND'. Estimated £8,000 - £10,000.

Lot 308
Estimate: £8,000 - £10,000
The sale concludes with issues from Malta, featuring a superb example of a 1902 horizontal pair "One Penny" upon a 2½d. dull blue provisional (Lot 355). The right-hand stamp has been printed with a double surcharge error, 'One Pnney', making it unique as well as a great rarity. It is estimated £25,000 - £30,000 and is the highest valued item of the auction.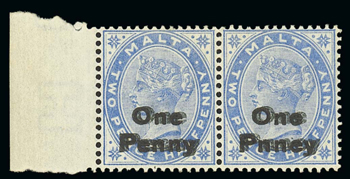 Lot 355
Estimate: £25,000 - £30,000
Following in the footsteps of 'British Europe' auction is 'The Philatelic Collector's Series Sale', featuring the award winning collection formed by Greg Francis of 'Province of Otago Postal History' and also Rhodesia issues from the Cliff Wheatley Collection. This will be offered on the 9th, 10th and 11th of July.
About Spink
Spink is the world's leading auctioneer of stamps, coins, banknotes, medals, bonds & shares, autographs, books and wine. Since its foundation in 1666, the Spink name has become synonymous with tradition, experience and integrity. Holder of royal warrants and numerous records for prices achieved at auction, Spink offers an unparalleled range of services to collectors worldwide. Headquartered in London, with offices in New York, Switzerland, Hong Kong and Singapore, Spink holds over 70 auctions a year. Catalogues can be accessed through the Spink website (www.spink.com) or via the Spink App for iPhone and iPad.
For Press Enquiries, Please Contact:
Ed Rivers
Advertising, Marketing & PR