On June 25th, Spink London held an auction of 'Ancient, British & Foreign Coins and Commemorative Medals', a varied 800 lot auction that covered almost every genre of numismatics.
Split into two sections, the auction opened with a session of historical collections and single lot items from Ancient Greece and Rome to contemporary proof sets and British milled coins.
Some of the most interesting items offered in the morning session were a collection of gold coins from the Gupta Empire (dated 4th and 5th centuries AD)
This group included many rare and iconic issues that rarely come on the market, such as a Samudragupta I Dinar (lot 270), depicting a Gupta Queen and sacrificial horse during the royal ritual of Asvamedha (horse sacrifice).
The scarce coin over quadrupled its estimate to realise a price of £9,600.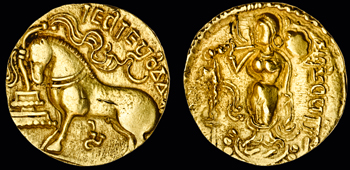 Lot 270
Price Realised: £9,600
Another highlight of the morning session was an early Mohur of Rewa state, now in Madya Pradesh, 1835-43 (Lot 369). With legends in engraved in crude English and Nagari script, the coin demonstrates the limitations of the engraver during the early 19th Century.
The coin sparked a huge amount of interest amongst bidders which led to a realised price of £10,800, over ten times its estimate.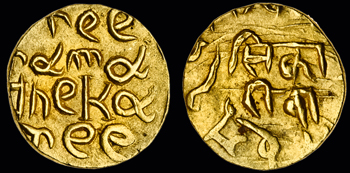 Lot 369
Price Realised: £10,800
The second half concentrated upon coins from Britain, including commemorative medals, numismatic books and cabinets.
The highlight of the afternoon session was an extremely fine gold Cromwell Broad, dated 1656 (Lot 726). Known for demanding that his portraits be entirely accurate, the coin depicts Cromwell 'warts and all'.
The coin garnered a lot of interest and provoked fierce competition. Bids were made from the auction room and Spink Live until the coin reached a price of £26,400, the auctions most valuable item.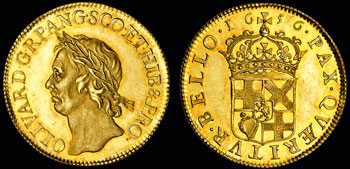 Lot 726
Price Realised: £26,400
Amongst the rarities on in the auction was a unique and extremely fine floral type penny from the reign of King Eadred, during 946-55 (Lot 528). It is thought the coin was previously mounted upon a brooch, during the Saxon Ages, before being detected and found in Thaxted, Essex (1998).
Struck with an exceptionally ornate design, this is the first and only recorded example of its type. Doubling its estimate, it achieved £10,200
Lot 528
Price Realised: £10,200
About Spink
Spink is the world's leading auctioneer of stamps, coins, banknotes, medals, bonds & shares, autographs, books and wine. Since its foundation in 1666, the Spink name has become synonymous with tradition, experience and integrity. Holder of royal warrants and numerous records for prices achieved at auction, Spink offers an unparalleled range of services to collectors worldwide. Headquartered in London, with offices in New York, Switzerland, Hong Kong and Singapore, Spink holds over 70 auctions a year. Catalogues can be accessed through the Spink website (www.spink.com) or via the Spink App for iPhone and iPad.
For Press Enquiries, Please Contact:
Ed Rivers
Advertising, Marketing & PR