Spink are offering a varied selection of Indian coins at their London auction on 25thJune.
One of the most interesting sections of the auction is an unexpected discovery in an old family collection of a group of over 20 gold coins from the Gupta dynasty dating from the 4th and 5th centuries AD. The group includes many scarce and iconic issues such as that featuring Samudragupta playing a lyre (lot 271). The king was accomplished in the arts of music and poetry, and here he is shown seated on a high backed throne, the musical instrument across his lap.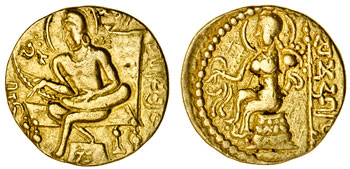 Lot 271
Estimate: £1,800 - £2,500
There are also two 'lion slayer' coins of Chandragupta II (275 & 276) and the ubiquitous Asvamedha horse sacrifice type depicting a Gupta queen and the sacrificial horse (lot 270). They are all attractive examples of these very popular gold coins. As good examples rarely appear on the market, we expect there will be keen competition from the many collectors in this area which has recently been growing in popularity.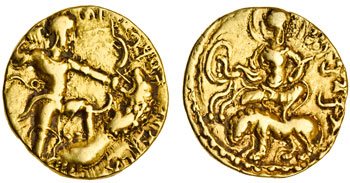 Lot 275
Estimate: £1,800 - £2,500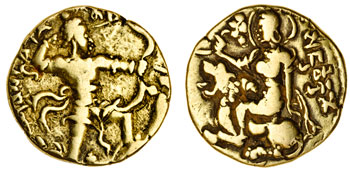 Lot 276
Estimate: £1,500 - £2,000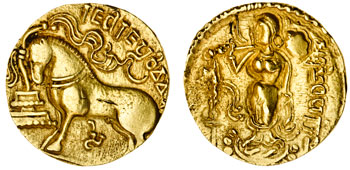 Lot 270
Estimate: £2,000 - £3,000
There are also over 100 lots of coins of the Princely States, South India and the East India Company including some unusual tokens.
CROMWELL IS 'OUR CHIEF OF MEN'
The English coins in the afternoon session include a very handsome gold Broad of Oliver Cromwell dated 1656 (lot 726). Cromwell is of course famous for, among other things, demanding that his portraits should be entirely accurate, 'warts and all'. Here is the result, an honest depiction of a slightly weary elderly statesman, with hollow cheeks and furrowed brow. Cromwell consistently refused to take the title of king, and yet here he wears the laurel wreath, normally associated with the Emperors of Ancient Rome, but here referring to his military victories. Coins of The Commonwealth and of Cromwell have enjoyed a significant boost in popularity in recent years, and this will no doubt be reflected in some strong bidding for this extremely fine coin.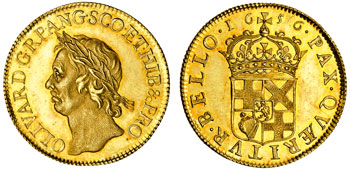 Lot 726
Estimate: £10,000 - £12,000
About Spink
Spink is the world's leading auctioneer of stamps, coins, banknotes, medals, bonds & shares, autographs, books and wine. Since its foundation in 1666, the Spink name has become synonymous with tradition, experience and integrity. Holder of royal warrants and numerous records for prices achieved at auction, Spink offers an unparalleled range of services to collectors worldwide. Headquartered in London, with offices in New York, Switzerland, Hong Kong and Singapore, Spink holds over 70 auctions a year. Catalogues can be accessed through the Spink website (www.spink.com) or via the Spink App for iPhone and iPad.
For Press Enquiries, Please Contact:
Ed Rivers
Advertising, Marketing & PR