On June 18th, Spink London will offer The "Garrison" Collection of New Guinea "G.R.I" Surcharges in philatelic auction.
The collection features a fine selection of stamps and postal history from the "G.R.I" issues of reoccupied New Guinea during the Great War.
When the 1914-18 Great War broke out, the Commonwealth was asked to equip an expeditionary force to capture the German held areas of New Guinea.
From 25th September 1914 the Australian Imperial Forces captured stock of colonial stamp issues from the Germans which were subsequently overprinted with "G.R.I" (George Rex Imperator) and surcharged with their approximate equivalent Sterling values.
Featured in the auction is one of the major rarities of these overprinted issues, an unused and well centred Marshall Islands 5s. on 5m. variety (lot 619). Printed in carmine and black, it still contains a part of the original gum S.G. 64q. Estimated £12,000 - £15,000.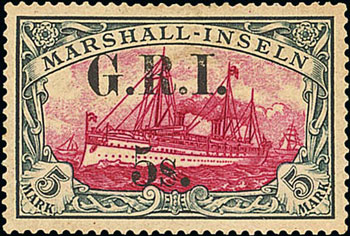 Lot 619
Estimated: £12,000 - £15,000
Also on offer is an extremely rare example of a German New Guinea 3d. on 30pf. black and orange on buff vertical pair (lot 552). The surcharge on the lower stamp is completely omitted, making it incredibly scarce with only four recorded examples. Estimated £8,000 - £10,000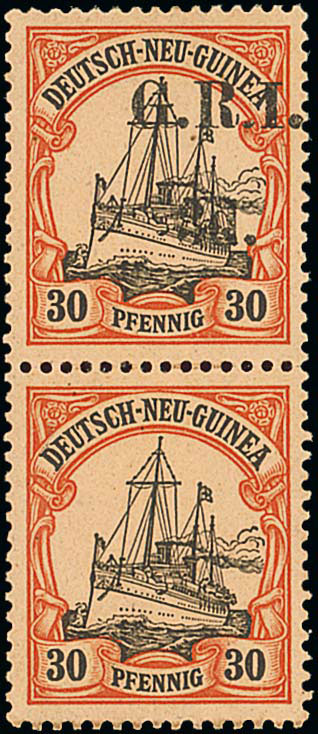 Lot 552
Estimated: £8,000 - £10,000
Amongst the rarities on offer, the sale additionally offers what is believed to be the largest known "block" of "G.R.I" overprints (lot 617). An extremely rare example, the "block" exhibits nineteen 1d. on 5pf. green, eighteen on stamps of German New Guinea and one on Marshall Island.
All are affixed to a piece of paper, with the last position causing the surcharge to be printed onto the "blanket.
An extraordinary exhibition piece, it is estimated £6,000 - £8,000.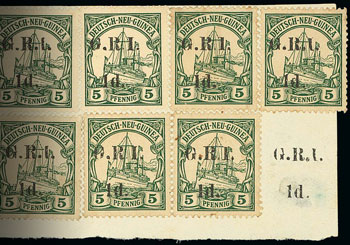 (Detail)
Lot 617
Estimated: £6,000 - £8,000
Other highlights include a magnificent example of a Käwieng Deutsch Neu-Guinea 3d. on registration label block of twenty (2x10) that features two types of printed errors (lot 566) and a very rare example of an unused German New Guinea 5s. on 5m. carmine and black with 3¾mm. spacing (lot 530).
Both are estimated £5,000 - £6,000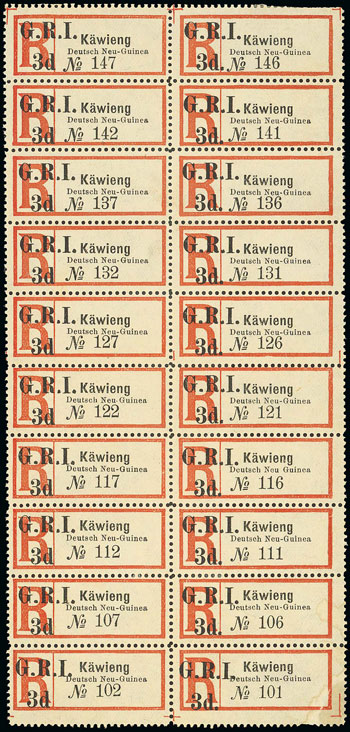 Lot 566
Estimated: £5,000 - £6,000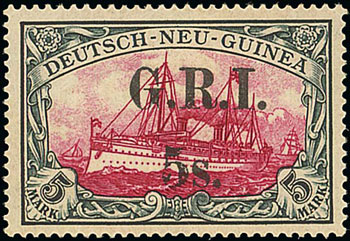 Lot 530
Estimated: £5,000 - £6,000
Spink Specialist, Nick Startup comments; "This collection is one of the best to come onto the market in recent years, with many major varieties and rarities included. Many have graced the great collections of the past, including that of the Marquess of Bute (1959) and Robert Gibbs (1988)."
The following day, June 19th, Spink London will hold its third philatelic sale within a week, The "Lionheart" Collection of Great Britain and British Empire - Part III.
Parts I and II were both well received in 2013 and it is looking promising the latest part of the "Lionheart" Collection will follow suit.
About Spink
Spink is the world's leading auctioneer of stamps, coins, banknotes, medals, bonds & shares, autographs, books and wine. Since its foundation in 1666, the Spink name has become synonymous with tradition, experience and integrity. Holder of royal warrants and numerous records for prices achieved at auction, Spink offers an unparalleled range of services to collectors worldwide. Headquartered in London, with offices in New York, Switzerland, Hong Kong and Singapore, Spink holds over 70 auctions a year. Catalogues can be accessed through the Spink website (www.spink.com) or via the Spink App for iPhone and iPad.
For Press Enquiries, Please Contact:
Ed Rivers
Advertising, Marketing & PR