A handsome example of the much sought-after 1851 United States Assay Office $50 Gold "Slug" along with a number of other U.S. rare gold rarities will cross the block in New York on June 18 when Spink auctions the "Forest Park Collection". Formed largely in Philadelphia in the 1950's and 1960's, the collection features a wonderful selection of U.S. coins, medals, tokens, and paper money along with a select group of ancient and world coins.
Historically significant and lovely, the Augustus Humbert U.S. Assay Office $50 Gold piece (lot 2499) is graded NGC MS 61 and estimated at $150,000-200,000. This will be followed by an 1852 U.S. Assay Office $10 piece (lot 2500), graded NGC MS 61, estimated at $12,000-16,000; an 1853 U.S. Assay Office $20 (lot 2501), graded NGC AU 58, estimated at $10,000-15,000, and a range of California Gold pieces.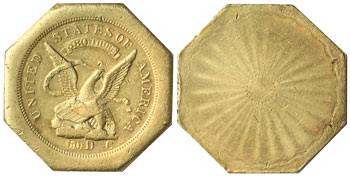 Lot 2499
Estimate: $150,000- $200,000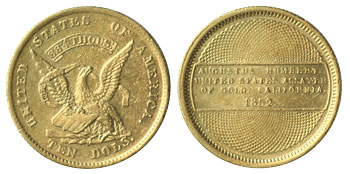 Lot 2500
Estimate: $12,000- $16,000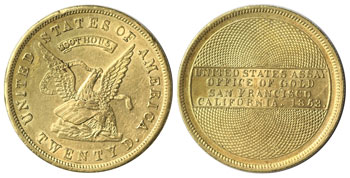 Lot 2501
Estimate: $10,000- $15,000
Among the highlights of the regular issue U.S. gold is a 1810 Large Date Large 5 Half Eagle (lot 2339), graded NGC MS 61, estimated at $10,000-15,000; a Heraldic 1806 7x6 stars Half Eagle (lot 2337), NGC MS 55, estimated at $8,000-10,000; and a 1807 Capped Bust Left Half Eagle (lot 2338), NGC MS 62, (estimate $7,500-12,500).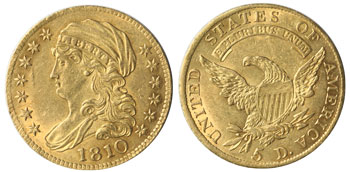 Lot 2339
Estimate: $10,000- $15,000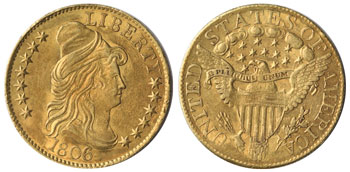 Lot 2337
Estimate: $8,000- $10,000
Lot 2338
Estimate: $7,500- $12,500
A massive 1909 Hudson-Fulton Sandblast Proof Gold Medal is certainly the star of the medal and token offering (lot 2552). This piece, estimated at $20,000-$40,000, is one of only two gold medals produced by Whitehead and Hoag of Newark for the American Numismatic Society while the dies were in the society's possession. Its offering presents a singular and perhaps once-in-a-lifetime opportunity for collectors.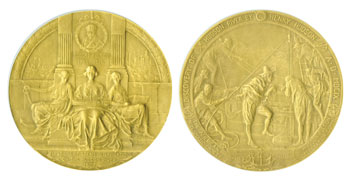 Lot 2552
Estimate: $20,000- $40,000
The collection also features a pleasing array of U.S. Currency, Commemorative Half Dollars and Silver Mine Ingots. "In today's market, 'fresh material' is increasingly becoming a rare commodity," says Stephen Goldsmith, head of Spink's Numismatic Department in the U.S. "The sale of the Forest Park Collection presents a golden opportunity to collectors to add both beauty and value to their collections."
Additionally, Spink will offer a good range of U.S. coins, currency, and bonds in New York the day before, June 17, in the "Collector's Series" auction. Paper Money highlights include a Rare South Carolina 1788 10 Pounds Special Indent Note (lot 1328, estimated at $5,000-10,000) and the only known Large Size Sheet from the Livingston Manor National Bank, NY - an uncut $10-10-10-20 sheet (lot 1398, estimated at $10,000-15,000). The Stocks and Bonds section, meanwhile, features a large run of Confederate Bonds.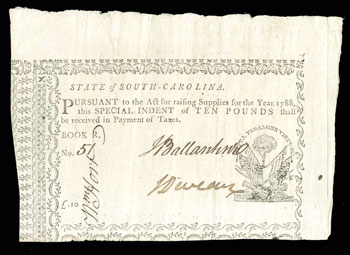 Lot 1328
Estimate: $5,000- $10,000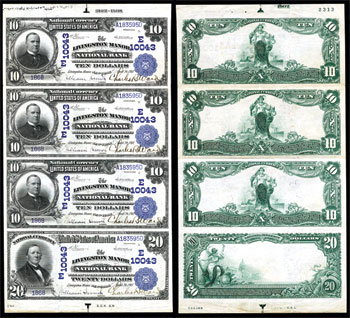 Lot 1398
Estimate: $10,000- $15,000
For catalogues or further information, please contact Spink New York at 212-262-8400.
About Spink
Spink is the world's leading auctioneer of stamps, coins, banknotes, medals, bonds & shares, autographs, books and wine. Since its foundation in 1666, the Spink name has become synonymous with tradition, experience and integrity. Holder of royal warrants and numerous records for prices achieved at auction, Spink offers an unparalleled range of services to collectors worldwide. Headquartered in London, with offices in New York, Switzerland, Hong Kong and Singapore, Spink holds over 70 auctions a year. Catalogues can be accessed through the Spink website (www.spink.com) or via the Spink App for iPhone and iPad.