Spink USA will auction the second part of the Gerald W. Jackson Collection of British Pennies during its Collector's Series Sale on June 17, 2014 in New York. The finale of the Jackson Collection, some 82 lots, made up primarily of Victorian Pennies, is marked by many great prizes, selected both for superior grade and rarity.
Featured in the collection is one of the finest known examples of the very rare 1882 Penny (lot 1053), graded NGC MS 64 RB and estimated at $12,000-16,000. Other Victorian rarities include an 1862/1662 Penny, graded NGC MS 64 RB (lot 1019), estimated at $6,000-8,000; a Choice 1861 Heavy Flan Penny, Freeman 23 (lot 1016) and an 1869 Penny, graded NGC MS 64 RB (lot 1028) - both estimated at $4,000-5,000 each.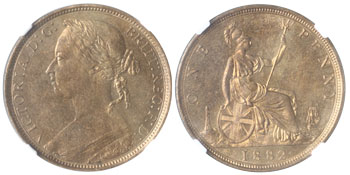 Lot 1053
Estimate: $12,000 - $16,000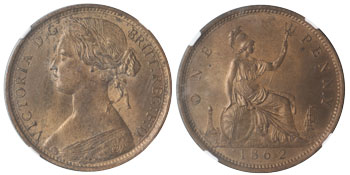 Lot 1019
Estimate: $6,000 - $8,000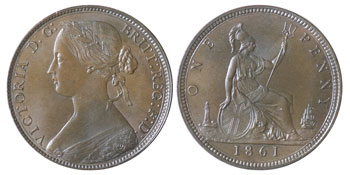 Lot 1016
Estimate: $4,000 - $5,000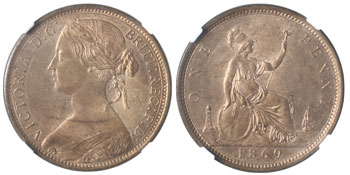 Lot 1028
Estimate: $4,000 - $5,000
The star of the post-Victorian issues is an extraordinarily rare 1908 Matte Proof Penny of Edward VII (lot 1071), only 3 pieces are recorded. Graded NGC PF 65 BN MATTE, it is estimated at $10,000-15,000. "This is a remarkable offering," said Gregory J. Cole, Spink Senior Numismatist for World Coins. "The first part of the Jackson Collection, which we sold this past January, did extremely well and we expect the finale to receive an equally enthusiastic response."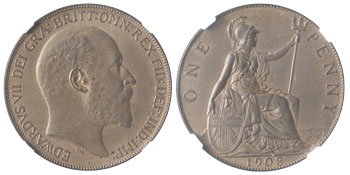 Lot 1071
Estimate: $10,000 - $15,000
Other world highlights of the sale include the "Christian J. Buys Study Collection of the Brooke Rajahs of Sarawak" and a German New Guinea 5 Mark, 1894 A, graded PCGS MS 64. Additionally, world currency collectors will find an extensive offering of world paper money large lots. Meanwhile, Spink's sale of the "Forest Park Collection" the next day, June 18, in New York, while driven by important U.S. rarities, also features a rewarding array of foreign coinage. This includes a run of early Vatican City Mint Sets with gold, a very rare Brunswick-Wolfenbuttel Broad 5 Taler, 1609, and Monaco Essai and Essai Piefort issues in gold from 1943-1950.
For catalogues or further information, please contact Spink New York at 212-262-8400.
About Spink
Spink is the world's leading auctioneer of stamps, coins, banknotes, medals, bonds & shares, autographs, books and wine. Since its foundation in 1666, the Spink name has become synonymous with tradition, experience and integrity. Holder of royal warrants and numerous records for prices achieved at auction, Spink offers an unparalleled range of services to collectors worldwide. Headquartered in London, with offices in New York, Switzerland, Hong Kong and Singapore, Spink holds over 70 auctions a year. Catalogues can be accessed through the Spink website (www.spink.com) or via the Spink App for iPhone and iPad.