On May 30th, Spink London will hold an auction of Bonds & Share Certificates of the World.
The sale will offer a diverse selection of rare material, with lots dating back to the eighteenth century and with many that haven't been seen on the market for thirty years.
Consisting of over 700 lots from across the globe, highlights include lot 378, a rare certificate for one share in the voyage of the ships 'Success' and 'Speedwell', in the charge of John Clipperton, to the South Seas.
Dated 18th June 1720, the share is signed by Alexander Strachan, E. Hughes, Andrew Drummond and R. Winder who acted as managers and directors of the expedition.
Interestingly, the certificate was issued sixteen months after the expedition had sailed. Presumably one of the original shareholders wished to spread his risks by selling in a rising market.
With only two known of its type, the certificate is estimated £2,500 - £3,000 and will undoubtedly attract considerable interest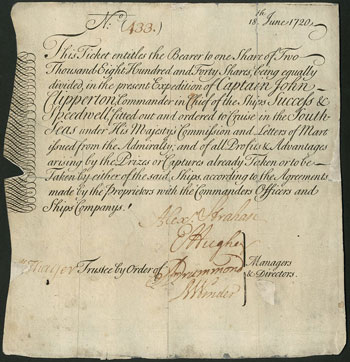 Lot: 378
Estimate: £2,500 - £3,000
An example of the attractive rarities on offer is also lot 333, a French style 100 peso share from Companhia del Pozo Rico.
Formed in 1768, the Companhia del Pozo Rico was well regarded since the 16th Century for its rich Spanish silver mines that rivalled the mines in the Spanish Colonies in South America.
Only a handful of copies are known of this French design which reflect the French capital the company was financed by. Estimated £3,000 - £4,000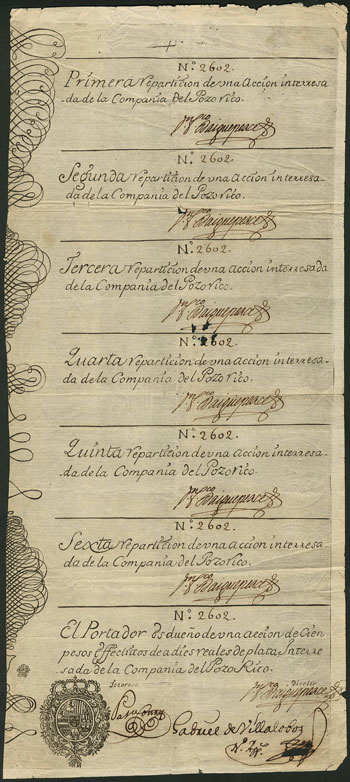 Lot: 333
Estimate: £3,000 - £4,000
Another highlight is lot 365, an Order of Payment for £1,101 18s/ 9d.
The impressive document is made out for repayment and payments to John Durand for supporting the Armed Forces in the 'ceded' islands of Tobago and Dominica.
Dated April 1776, it is signed by King George III, Lord North (Prime Minister), Lord Onslow (Minister of the Treasury) and C.W. Cornwall of the Treasury.
The document is in extremely fine condition and is estimated £1,500 - £2,000.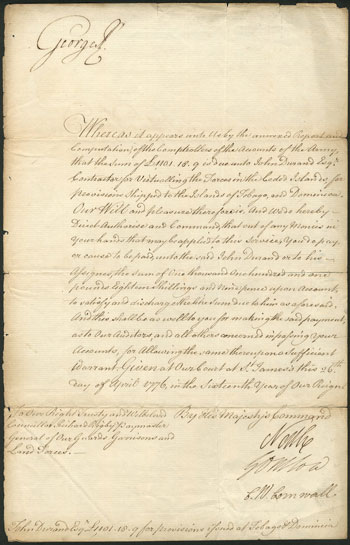 Lot: 365
Estimate: £1,500 - £2,000
Other notable items include lot 697 and lot 178.
Lot 697, a one share for the Baltimore Insurance Company issued to Robert Smith.
This company was incorporated in the state of Maryland with a capital of $3000,000 on the 26th December 1795, just two days after the state's first such company came about. Estimated £1,000 - £1,500.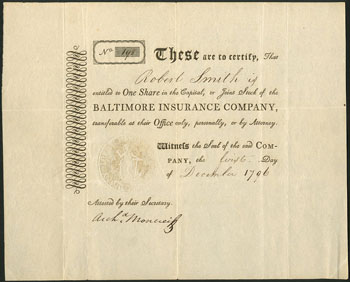 Lot: 697
Estimate: £1,000 - £1,500
Lot 178, 10 shares of 500 yen from Kawasaki Shipyard Ltd.
Dated 1921 (Taisho 10) and signed by Kojiro Matsukata as President, the attractive certificate is illustrated with vignettes of steamships, warships, aircraft and steam engines.
The Kawasaki Shipyard (previously known as Kawasaki Heavy Industries) was formed after the merger of two shipyards in 1896 to become one of Japan's leading corporations of its time.
Estimated £200 - £300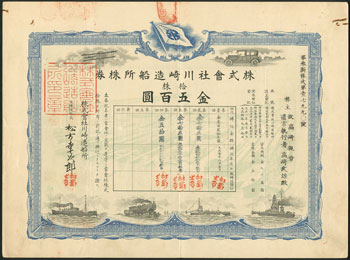 Lot: 178
Estimate: £200 - £300
On the June 7th, Spink Switzerland will be holding its second sale of 'Bonds and Share Certificates of the World', offering more unique and interesting items that will excite buyers and collectors alike.
About Spink
Spink is the world's leading auctioneer of stamps, coins, banknotes, medals, bonds & shares, autographs, books and wine. Since its foundation in 1666, the Spink name has become synonymous with tradition, experience and integrity. Holder of royal warrants and numerous records for prices achieved at auction, Spink offers an unparalleled range of services to collectors worldwide. Headquartered in London, with offices in New York, Switzerland, Hong Kong and Singapore, Spink holds over 70 auctions a year. Catalogues can be accessed through the Spink website (www.spink.com) or via the Spink App for iPhone and iPad.
For Press Enquiries, Please Contact:
Ed Rivers
Advertising, Marketing & PR