Today, 15th May, Spink London held 'The J. E. Safra Collection of Great Britain Rarities", completing two days of sales devoted to British Philatelic collectables.
The auction offered 91 lots, many of which have not been seen on the open market for over twenty years.
Amongst the highlights of the sale was lot 1006, an 1840 Mulready with a franked 1840 One Penny Black, Plate 1a PB and PC, and an 1840 Two Pence Blue horizontal strip of four.
Addressed to Mrs Jonna in Malta, each stamp has been cancelled with a red Maltese Cross and black pen strokes.
The Two Pence Letter Sheet also includes its original written contents;
"I enclose a few of the new Post Stamps which are to be stuck on letters. They may be a Novelty in Malta"
This item demonstrates a combination of early overseas use and franking, both of which are dated just three days after the first official day of usage.
The lot realised £72,000.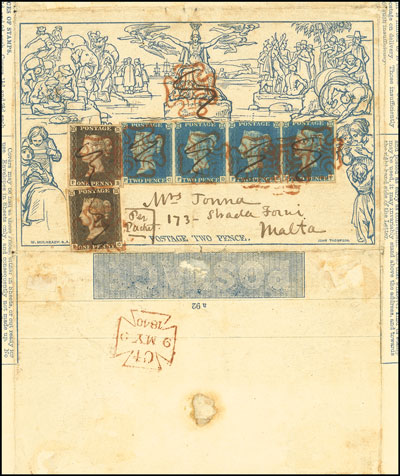 Lot 1006
Price Realised: £72,000
Another highlight was lot 1063, a wonderful matched pair of an unused 1840 One Penny Black and a Two Penny Blue.
Complementing each other with fine and fresh colours, both are in excellent condition and demonstrate a wonderful example of the world's first two postage stamps.
The very rare pair sold for £31,200.

Lot 1063
Price Realised: £31,200
An excellent example of the exhibition quality items on offer was lot 1069, a very rare One Penny Black block of four.
The mint 2 x 2 block contains its original gum with the lower pair remaining unmounted mint.
With a sharp impression and fresh exceptional colour, the superb block achieved £60,000.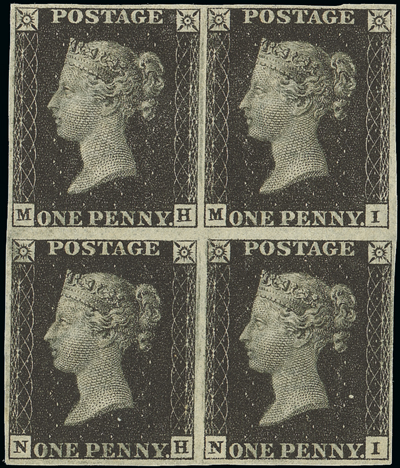 Lot 1069
Price Realised: £60,000
The highest price achieved item was lot 1081, a great line engraved rarity of an 1840 Two Pence Blue mint block of four.
Still including a large part of its original gum, the unused specimen has good to large margins all round.
The fresh and highly attractive example is in remarkable condition and sold for £96,000.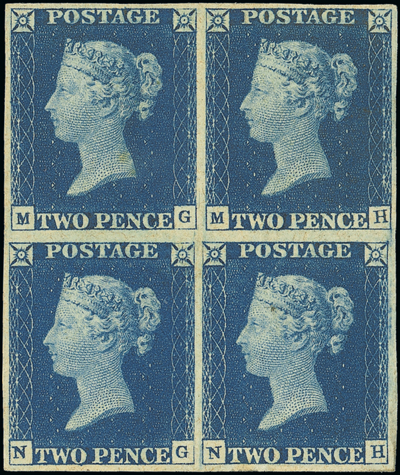 Lot 1081
Price Realised: £96,000
Spink Specialist and Auctioneer Guy Croton, commented; "The auction showed strong results, demonstrating that high quality stamps are in very high demand"
Next week, Spink USA will auction 'The J. E. Safra 24c. Inverted Jenny'. Due to be sold on the 21st May, the legendary error will be offered in a single lot sale.
To find out more about the Inverted Jenny, CLICK HERE.
About Spink
Spink is the world's leading auctioneer of stamps, coins, banknotes, medals, bonds & shares, autographs, books and wine. Since its foundation in 1666, the Spink name has become synonymous with tradition, experience and integrity. Holder of royal warrants and numerous records for prices achieved at auction, Spink offers an unparalleled range of services to collectors worldwide. Headquartered in London, with offices in New York, Switzerland, Hong Kong and Singapore, Spink holds over 70 auctions a year. Catalogues can be accessed through the Spink website (www.spink.com) or via the Spink App for iPhone and iPad.