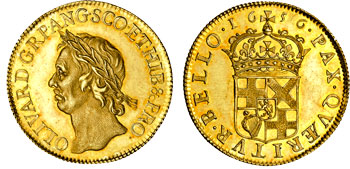 Oliver Cromwell, Lord Protector of England, 1653-58, Gold Broad, 1656, laureate head right, rev. crowned arms of the Protectorate, extremely fine, for auction June 26th 2014, a warts and all portrait by Thomas Simon, the finest engraver of the time.
Oliver Cromwell, leader of the victorious Parliamentary armies in the English Civil War, signed the death warrant of Charles I in 1649 and became Lord Protector of England in 1653. Offered the crown in 1657 he turned it down and died in 1658. After the restoration of the Stuarts in 1660, his body was exhumed and hung. His head is buried near to Sidney Sussex College chapel in Cambridge, the city for which he was elected member of Parliament in 1640 and the college he attended.
The coin will be offered at auction at Spink in London on 26 June 2014. It is currently available for viewing in our London showroom.