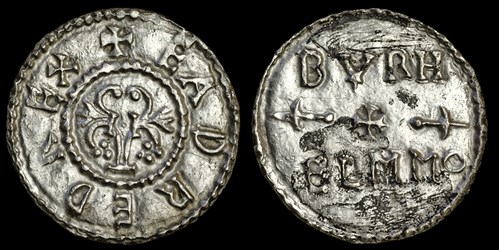 Eadred, king of England, 946-55, Penny, south eastern mint, by the moneyer Burhelm, symmetrical floral device with berries, rev. two line inscription divided by a cross between two anchors, extremely fine, unique and the first recorded of this type for Eadred, for auction, June 26th 2014.
Eadred, a grandson of Alfred the Great put an end to the Norse kingdom of York and completed the unification of England. The exceptional ornate design is only recorded for three coins, two struck for king Eadwig, who succeeded Eadred in 955, and now for this coin of Eadred. The moneyer, who made it, Burhelm occurs for Eadred's predecessor and this the only known coin by him in the name of Eadred. In Saxon times the coin was attached to a brooch or another object from which it became detached and lost until found a few years ago.
The coin will be offered at auction at Spink in London on 26 June 2014. It is currently available for viewing in our London showroom.