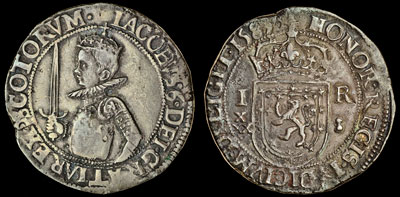 Scotland, James VI, 1567-1625, fourth coinage, Thirty Shillings, 1585, half-length crowned and armoured bust of the young King, rev. Scottish arms crowned, good very fine/ very fine, an attractive portrait.
Son of Mary Queen of Scots, James VI succeeded to the Scottish throne aged 1 in 1567 at a time of political and religious discord. The Protestant faction took charge of the young king and he was brought as a Protestant. His rule brought a period of peace and prosperity to the Scots. In 1603 on the death of Elizabeth I he inherited the English throne and the two kingdoms were united under one monarch but remained separate kingdoms until political union in 1707.
The coin will be offered at auction at Spink in London on 26 June 2014. It is currently available for viewing in our London showroom.