During the morning of March 26th, Spink London began two days of auctions devoted to Ancient, British and Foreign Coins and Commemorative Medals.
Opening with the 'Khalifa' Collection of Islamic coins, the auction room showcased a selection of fresh and unusual material that is rarely offered in the western Islamic coin market.
Formed over many years by a dedicated collector, buyers online, on telephone, absentee bidders as well as bidders present in the auction room witnessed hundreds of rare and unique coins from lesser known Islamic Dynasties go under the hammer.
Spink Coin Specialist Barbara Mears described the auction as "challenging and exciting" and how it was "a great opportunity for dedicated collectors of Islamic coins to add some truly unique items to their collection"
A highlight of the sale was an unconventional rarity, lot 71, an Abbasid mule. This coin unusually has two obverses, one naming al-Mustarshid (1118 - 35) and another naming al-Muqtafi (1136-60) who were the consecutive Abbasid Caliphs/Head of State in Baghdad.
Perhaps owing its appearance to an error at the Mint, or possibly a deliberate presentation piece, only one other coin of this type is known. This very rare coin realised a price of £2,880, almost doubling its previous estimate.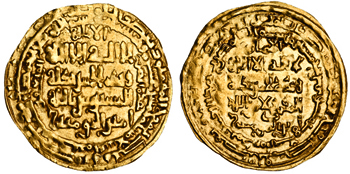 LOT 71
PRICE REALISED - £2,880
Similarly, lot 72 also surpassed the expected estimate by double. Another Abbasid mule, this time inscribed with al-Mustadi and dated 1170-1180.
This coin was struck during the Golden Age of Islam, when the Abbasid dynasty governed the Capital of Baghdad, converting it into a centre of science, culture, philosophy and invention. Reaching a realised price of £2,760, the rare coin encompasses the era which this collection champions.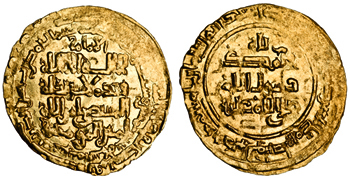 LOT 72
PRICE REALISED - £2,760
The star item of the Khalifa Collection was lot 298, a gold Ashrafi from the Persian Afsharid Dynasty. This coin was minted in Tiflis (now the Georgian capital Tbilisi) during the reign of Nadir Shah (1736-47), which perfectly demonstrates the extent and outreach of Shah's empire.
With interest from both American and Russian collectors, the extremely rare coin achieved a magnificent £3,840 which became the highest earning item of the sale.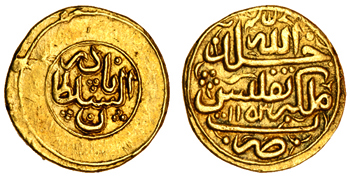 LOT 298
PRICE REALISED - £3,840
The 'Khalifa' Collection was well received by dealers and collectors alike and in many cases it surpassed expectations.
With bids coming in from around the world and a lot of interest from Spink Live, it collaboratively helped reach the total sale of 274 lots, with the most selling within or above estimate, demonstrating Spink's well regarded position within the Islamic coin market.
ABOUT SPINK
Spink is the world's leading auctioneer of stamps, coins, banknotes, medals, bonds & shares, autographs, books and wine. Since its foundation in 1666, the Spink name has become synonymous with tradition, experience and integrity. Holder of royal warrants and numerous records for prices achieved at auction, Spink offers an unparalleled range of services to collectors worldwide. Spink is headquartered in London and holds over 70 auctions a year around the globe. All catalogues are available on our website and through our Spink App for iPhone and iPad.
For high resolution images please contact;
Ed Rivers