At 1pm on the 2nd of April, Spink China's new Numismatic staff will, for the first time collaboratively, offer a wide selection of bonds, coins and banknotes.
Hundreds of banknotes, coins and bonds and shares will be up for auction in the Numismatic Collector's Series Sale held in Hong Kong.
Containing a wide mix of items with provenances ranging from long time collectors to the Numismatic trade and banknote archives.
There are many highlights of the sale, including lot 108, a Share Certificate for $100. Dated 1909, the Certificate is from the Hou De Industrial Bank primarily set up by former employees of the Ta Ching Government bank, later became The Bank of China. However, due to corruption and cronyism, massive debts were accrued in just one year, forcing the Hou De Industrial Bank to face bankruptcy and causing one of the most famous banking scandals in the late Qing era.
This Certificate is in impeccable condition, complete with its original envelope. Estimated HK$20,000-30,000, it is one of the most valuable Certificates in the auction.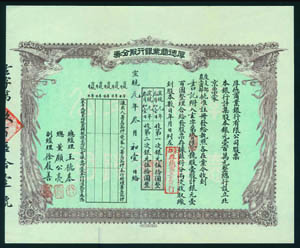 Lot 109
Estimated: HK$20,000-30,000
Another highlight of the sale is lot 132, a Share Certificate from the Kowloon Motor Bus Company Limited, dated 1927.
Signed in brush writing by the founder, Mr. Lui Leung, this Certificate also comes with other paperwork detailing the transfer of shares to another party.
Since most of the share certificates are still retained by the Lui family, this is a rare opportunity for collectors of scripophily and KMB material to obtain a Certificate from a company which still provides public transport for the citizens of Hong Kong. It is estimated to receive HK$130,000-150,000.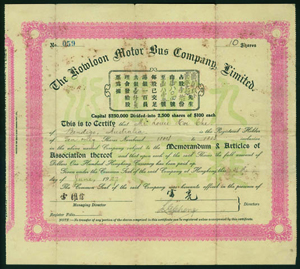 Lot 132
Estimated: HK$130,000-150,0000
Another noteworthy item is lot 351, a beautiful 20 cents from the Kwangtung Mint.
Coins of this design that come into auction are most commonly dated 1928 or 1929, however, this coin is dated 1930, something that rarely comes into market.
Due to the closure of the Mint in 1931, the coins date suggests it was probably one of the last to be struck by the company. Krause catalogues state that there is only one example of this coin to be known.
Commemorating the last moments of the Kwangtung Mint, the coin is estimated HK$140,000-160,000.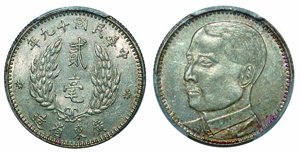 Lot 351
Estimated: HK$140,000-160,000
Another coin is lot 371, a Silver Dollar from the Republic of China from 1926. The coin showcases one of the four designs of the famous Manchurian Warlord, Chang Cho Lin, before his assassination by the Japanese in 1928.
Being one of the few slabbed by an independent grading company, it is extremely rare, with an estimate of HK$1,300,000; it truly is an item to watch out for.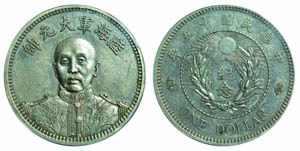 Lot 371
Estimated: HK$1,100,000 to $1,300,000
The auction not only contains beautiful and valuable items, but also contains unusual rarities that will intrigue and excite Numismatists and currency lovers alike.
Lot 1135A, is a perfect example of the rarities this sale has to offer. A People's Bank of China, 2nd series renminbi, 3 yuan, dated 1953.
Despite its early date, the series renminbi was introduced in 1955 to replace the original 1st series (which ran from 1948-1955) at a rate of 1 new yuan to 10,000 old yuan.
Within this series of coins, an unusual denomination was introduced; 3 yuan.
Highly sought after, especially since this banknote has been graded highly by an independent currency authentication company, it is estimated HK$105,000 - 120,000.
Lot 1135A
Estimated: HK$105,000-120,000
ABOUT SPINK
Spink is the world's leading auctioneer of stamps, coins, banknotes, medals, bonds & shares, autographs, books and wine. Since its foundation in 1666, the Spink name has become synonymous with tradition, experience and integrity. Holder of royal warrants and numerous records for prices achieved at auction, Spink offers an unparalleled range of services to collectors worldwide. Spink is headquartered in London and holds over 70 auctions a year around the globe. All catalogues are available on our website and through our Spink App for iPhone and iPad.
For high resolution images please contact;
Ed Rivers
Marketing, Advertising & PR