On the 26th and 27th of March, Spink London are excited to announce two days of prestigious coins sales,
Both sales, amounting to over a thousand lots, are comprised of an array of high quality Ancient and World coins and medals.
Day one will commence at 10am with The "Khalifa" Collection of Islamic Coins, an independently formed collection containing an abundance of new material from obscure dynasties that have rarely been seen on the market, some of which have not yet been recorded or published in numismatic circles.
Spink Coin Specialist, Barbara Mears, who catalogued the collection remarked:
"This is both a challenging and exciting collection. Although each coin was housed in a window envelope and described in Arabic, many of them were totally new to me. The collector wished to remain anonymous, but he was evidently a man of knowledge with an eye for rarities, who took great care to assemble an interesting collection."
Coins within the collection range throughout the timeline of the Middle Eastern history, dating from the earliest possible coinage, issued by the first Arab caliphs in imitation of earlier coins of the Sasanian dynasty, to the modern issues of Mecca and the Hejaz. It also includes a range of Indian coins, some from the Mughal Empire.
Highlights include lot 71. This intriguing coin appears to be a normal Abbasid Dinar, but closer inspection reveals it has two obverse sides: one naming al-Mustarshid (1118 - 35), another naming al-Muqtafi (1136-60), who were consecutive Abbasid Caliphs (Head of State) in Baghdad. Perhaps owing its appearance to an error at the mint, or possibly a deliberate presentation piece, only one other coin of this type is known. It was struck during the Golden Age of Islam, when the Abbasid dynasty governed the Capital of Baghdad, converting it into a centre of science, culture, philosophy and invention. Estimated at £1,500 - £2,000.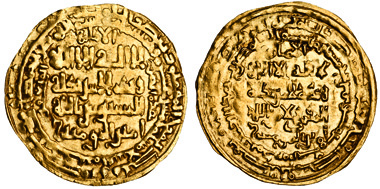 Lot 71
Estimated: £1,500 -£2,000
The latter part of the sale contains lot 298, a coin from the Persian Afsharid Dynasty, ruled by Nadir Shah (1736-47). Nadir Shah was known for his military prowess and for briefly conquering the Mughals, seizing the Peacock throne and ruling in Delhi. This coin demonstrates the extent of his empire as it was minted in Tiflis (now the Georgian capital Tbilisi) during one of his campaigns, and appears little circulated. It is extremely rare, and with interest from both American and Russian collectors there is good reason to believe it will exceed its estimate of £2,500 - 3,500, and become the star lot of this auction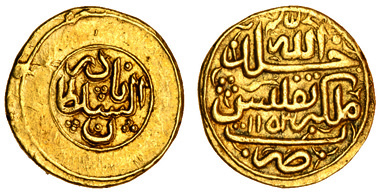 Lot 298
Estimated: £2,500 - £3,500
Taking place directly after The "Khalifa" Collection is "Ancient, British and Foreign Coins and Commemorative Medals"
This sale is a historical treasure trove, showcasing a selection of extremely fine and rare coins from England and further afield.
Divided into two parts (one in the afternoon of the 26th and the other taking place on the 27th) the afternoon session will concentrate on ancient coins from Islamic, Indian, Roman and Byzantine eras as well as coins from across the globe.
One lot of alluring background is lot 1036; an eight coin proof pattern set dated 1949, designed and engraved by the artist and engraver Patrick Brindley.
Each obverse is engraved with the lion capital of Asoka and 'GOVERNMENT OF INDIA' is inscribed around the emblem and every reverse is engraved with a unique motif.
The designer and previous owner of these coins, Patrick Brindley, has an extensive career history within engraving and the production of coins. Working for Mints in Britain, The Sudan, USA, Canada and India, he was responsible for the design and production for many coins that are still in use today. Most notably, Brindley's design of the 'Ashoka Pillar' which was chosen by Mahatma Gandhi to be used as the obverse of India's first coinage as an independent country.
This coinage was never adopted, making them extremely rare. Estimated £40,000 - £50,000.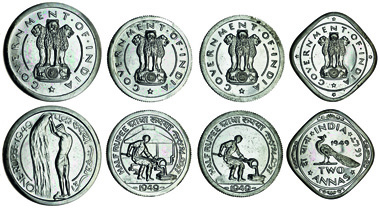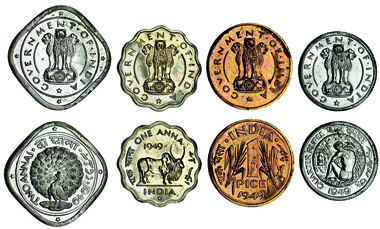 Lot 1036
Estimated: £40,000 - £50,000
Highlights of the sale also include lot 1337. An Anglo-Saxon gold Thrymsa found near Malton in North Yorkshire. This coin is one of the earliest issues of the Anglo - Saxon coinage (c. 620 - 645) to be found outside of a museum. Being extremely rare, it has an estimate of £4,000 - £5,000.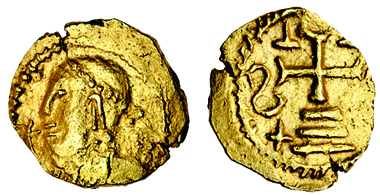 Lot 1337
Estimated: £4,000 - £5,000
Another Lot that raises attention is lot 1451, a rare and attractive sovereign issued by Elizabeth I. Dated between 1583 - 1600; it captures the Queen crowned and seated, holding sceptre and orb. With an estimate of £12,000 - £15,000, it is matched in beauty as it is in price.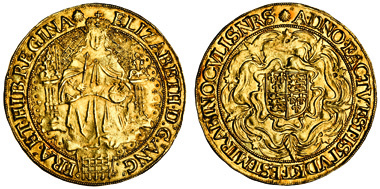 Lot 1451
Estimated: £12,000 - £15,000
One of the most valuable coins in the afternoon session is Lot 1483. An extremely fine and rare Charles I coin from the Civil War, 1664. Depicting the King crowned, armoured and draped, holding his sword and laurel branch. It is lustrous in vision and estimated £70,000 - £80,000.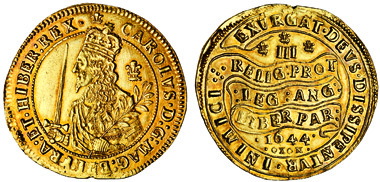 Lot 1483
Estimated: £70,000 - £80,000
Restarting the next morning, the sale moves on to focus upon exceptional hammered and milled coins from across the United Kingdom.
This session contains many beautiful, intriguing and important coins. One lot of particular note is lot 1627, The Reddite Crown. This pattern Crown is engraved magnificently with a portrait of Charles II. Twin to the Petition Crown (sold by Spink in 2007 for a world record breaking price of £207,000) The Reddite is extremely rare, with only five known to exist.
CLICK HERE for more information about The Reddite.
This highly important coin is estimated £100,000 - £120,000 and is certainly an item to keep an eye on.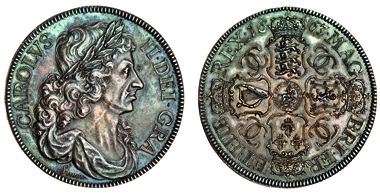 Lot 1627
Estimated: £100,000 - £120,000
ABOUT SPINK
Spink is the world's leading auctioneer of stamps, coins, banknotes, medals, bonds & shares, autographs, books and wine. Since its foundation in 1666, the Spink name has become synonymous with tradition, experience and integrity. Holder of royal warrants and numerous records for prices achieved at auction, Spink offers an unparalleled range of services to collectors worldwide. Spink is headquartered in London and holds over 70 auctions a year around the globe. All catalogues are available on our website and through our Spink App for iPhone and iPad.
For high resolution images please contact;
Ed Rivers