In a busy London-based auction of Bonds & Share Certificates of the World, Spink today achieved a number of results well over estimate, including a massive £74,400 for a pair of certificates relating to the first subscription to the Bank of England in 1694.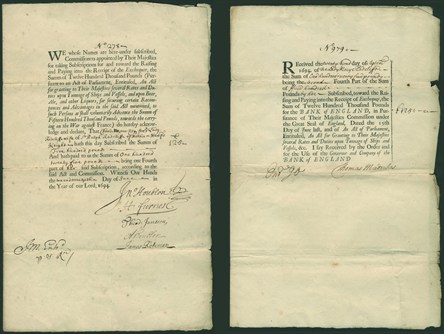 Above: Lot 477
The certificates are for the subscription of £500 made by Sir Ralph Radcliffe (1633-1720) for his wife. On the larger receipt may be found the signatures of Sir Henry Furnese, Sir Theodore Janssen, Abraham Houblon, Sir James Bateman, and Sir John Houblon, the first Governor of the Bank of England.
This was a very rare opportunity to bid for a document dated at the very dawn of the Bank. Spink is delighted at the success of these extremely important documents, which surpassed their estimate by tens of thousands.
Other highlights of today's 800-lot sale include: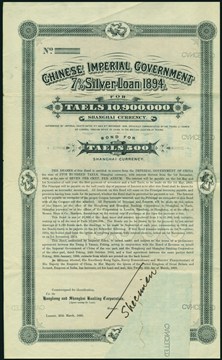 Above: Lot 185
Chinese Imperial Government, 7% Silver loan, 1894
Price Realised: £19,200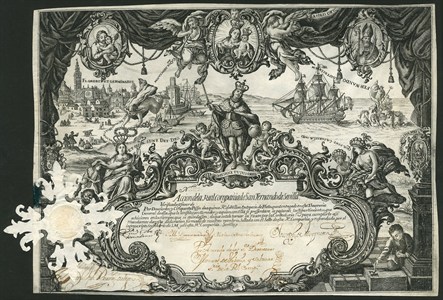 Above: Lot 451
Real Compania de San Fernando de Sevilla, 1749
Price Realised: £2640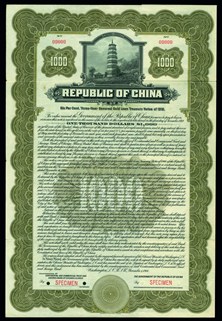 Above: Lot 241
Republic of China 6% 3-Year Gold Loan, 1916
Price Realised: £7,800
For further press information, please contact: Eleanor Ball, Email: [email protected] or Telephone: +44 (0)20 7563 4009. All images copyright Spink.
Click here for more information on Spink Chairman and CEO Olivier D. Stocker.