Significant interest in a number of important medal groups sold by Spink in today's auction has resulted in some remarkable prices realised.
The star of this successful auction was the unique and well documented China 'Defence of Legations' D.S.O. Group to Lieutenant Colonel F.G. Poole, East Yorkshire Regiment, who commanded the International Volunteers in Peking and was wounded during the defence.
Our London auction room was filled to capacity this morning when the D.S.O. Group sold for a massive £102,000, approximately five times its estimate of £20,000-25,000.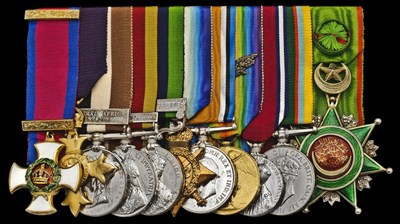 Above: Lot 7
The unique and extremely well documented 'Defence of Legations' D.S.O., 'Great War' O.B.E. Group of Eleven to Lieutenant Colonel F.G. Poole, East Yorkshire Regiment, later Middlesex Regiment, sold alongside his diary and that of his brother, Dr. Wordsworth Poole, which provide great historical insight into their adventures in Africa and China.
Equally well competed for was the Important Second War 'L' Detachment 1942 'Bouerat Raid' D.C.M. Group of Eight to 'Pay' Riley, one of the founding members of the S.A.S. and an iconic name amongst The Regiment. This group was eventually sold for £98,400, a figure almost twice its pre-sale estimate.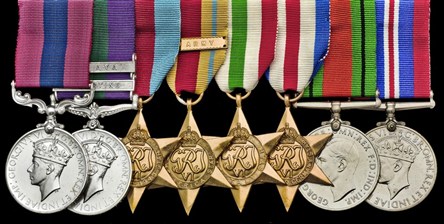 Above: Lot 22
Important Second War 'L' Detachment 1942 'Bouerat Raid' D.C.M. Group of Eight to Regimental Sergeant Major, Later Major, C.G.G. 'Pat' Riley, Special Air Service, Later Coldstream Guards. One of the Founding Members of 'L' Detachment, having joined as one of Jock Lewis' "Tobruk Four", with Bob Lilley, Jim Almonds and Jim Blakeney. He was a renowned Pugilist and was probably the only person have to have bested both Paddy Mayne and Reg Seekings in a fight.
The sale also included a collection of 73 Shoulder Belt Plates formed over the latter half of the 19th Century. Many of the scarcer examples had not been noted at auction for a number of years, and today this collection appeared on the market for the first time in over a century.
Every plate in the collection was sold, the vast majority well above estimate.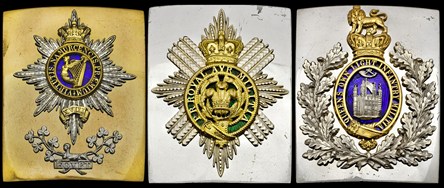 Above: Lots 202 (£1,680), 234 (£2,520) and 243 (£2,400)
Other notable results include: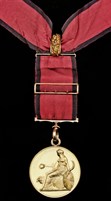 Lot 87
A Fine Army Large Gold Medal to Major-General J. Skinner, 16th Foot, who fought with the Regiment's Light Company during the American Revolutionary Wars; he commanded the 16th Foot during the expedition to, and capture of, Surinam, May 1804; and commanded the Fourth Brigade during the Guadeloupe Expedition of February 1810.
Price realised: £57,600
Lot 29
The Historically Important Group of Honours and Awards bestowed upon Bwana Doctari Surgeon-Major T.H. Parke, Army Medical Department, a Doctor, Soldier, Explorer, and Naturalist who served alongside H.M. Stanley in the Advance Column as Medical Officer on the Emin Pasha Relief Expedition, 1887-89, in which capacity he cared for and saved the lives of both Stanley and Emin Pasha, while in the process becoming the first Irishman to cross the African Continent.
Price realised: £55,200
Speaking of the successful day's highlights, Head of Medal Department Mark Quayle said: "There were some very pleasing results across the sale as a whole, with several truly historic lots being strongly competed for by bidders from all corners of the globe."
For further press information, please contact: Eleanor Ball, Email: [email protected] or Telephone: +44 (0)20 7563 4009. All images copyright Spink.
Click here for more information on Spink Chairman and CEO Olivier D. Stocker.