Among the many interesting lots to go under the hammer at Spink on the 21st of November is the unique and well documented China 'Defence of Legations' D.S.O. Group to Lieutenant Colonel F.G. Poole, East Yorkshire Regiment, who commanded the International Volunteers in Peking and was wounded during the defence.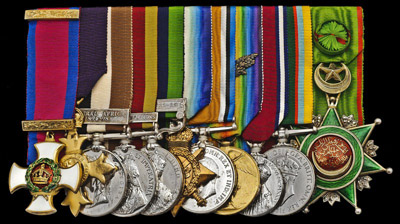 This is undoubtedly one of the finest campaign groups from the period, and will be sold alongside the remarkable diaries of Lieutenant Colonel Poole and his brother Dr. Wordsworth Poole.

On the 15th of November 1901, Lieutenant Colonel F.G. was presented with his D.S.O., the only one given for the Defence, by the Officer Commanding Troops, Peking, at a parade of the Garrison. Fittingly, the parade was held on the Carriage Park, the scene of some of his most daring exploits.
These diaries provide a graphic historical insight into the brothers' adventures in Africa and China, including the Siege of Legations.
The Medals and diaries together are tangible artefacts from a seminal moment in world history. They are expected to fetch between £20,000 and £25,000.
Click here to download a PDF of Orders, Decorations, Campaign Medals and Militaria.
For further press information, please contact: Eleanor Ball, Email: [email protected] or Telephone: +44 (0)20 7563 4009. All images copyright Spink.
Click here for more information on Spink Chairman and CEO Olivier D. Stocker.