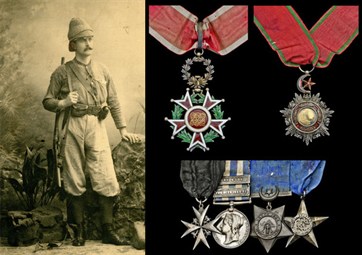 Above: Lot 29
On the 21st of November, Spink will be offering the opportunity to own the historically important group of honours and awards bestowed upon Surgeon-Major T.H. Parke, who saved the life of Henry Morton Stanley, the most famous African explorer of the age.
Surgeon-Major T.H. Parke was a Doctor, Soldier, Explorer, and Naturalist. He served alongside Stanley in the Advance Column as Medical Officer on the Emin Pasha Relief Expedition of 1887-89, on which he saved the lives of both Stanley and Emin Pasha, while in the process becoming the first Irishman to cross the African Continent.
Throughout the three-year expedition Parke displayed substantial courage and medical prowess recognised by Stanley himself.
Included in the group of awards and honours is the massive 'Americans in London' Tribute Medallion, engraved with the personal dedication from Stanley:
'From Americans in London to Surgeon T.H. Parke, A.M.D. (Bwana Doctari) 30th. May 1891. "Skilled as a Physician, Tender as a Nurse, Gifted with Remarkable Consideration and Sweet Patience"- Stanley.'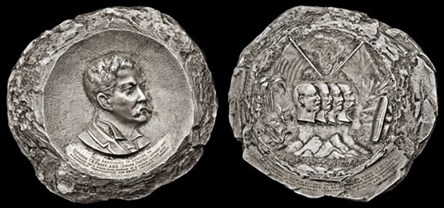 Parke's papers are in the Library of the Royal College of Surgeons, Dublin. He wrote of their triumphant return home:
A large and enthusiastic crowd awaited at Alexandria to bid us "God speed", and to cheer us as we passed along, and we waved, as we moved away from land, a farewell salute to the shores of the continent, from the unexplored interior of which each one of us had, I believe, at some period of the Expedition, lost all hope of returning.
Stanley and his Officers received tremendous public acclaim upon returning home. Stanley remains one of the most infamous and important explorers in history, and owed his life to his "unrivalled" Bwana Doctari, Surgeon-Major T.H. Parke. Parke was forever celebrated as "the man who had saved Stanley", and in the course of the Expedition was the first Irishman to cross Africa.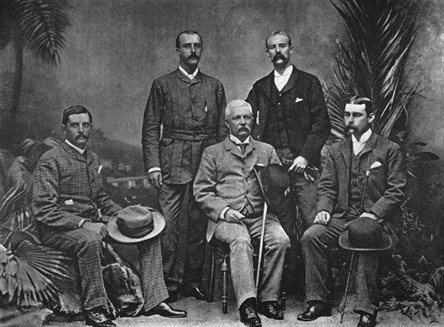 Above: Stanley and his Officers, Cairo, 1890.
Left to right: Dr. Thomas Heazle Parke, Robert H. Nelson, Henry M. Stanley, William G. Stairs, and Arthur J. M. Jephson
Spink is proud to offer this highly evocative and important group of medals, which is expected to fetch between £30,000 and £40,000. For collectors of Medals, Militaria and history, it is not an opportunity to be missed.
Mark Quayle, Head of the Spink Medal Department, said "there has already been considerable interest in this group, owing to the fact that this is the only Medal Group on the market and not in an institution that has been awarded to one of Stanley's Officers."
For further press information, please contact: Eleanor Ball, Email: [email protected] or Telephone: +44 (0)20 7563 4009. All images copyright Spink.
Click here for more information on Spink Chairman and CEO Olivier D. Stocker