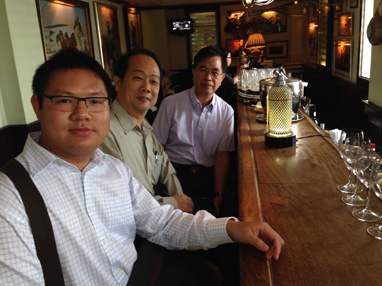 Just a month after the move of Chairman and CEO Olivier D. Stocker to Hong Kong, Spink is delighted to announce the hiring of three senior numismatic experts who are well known to the Hong Kong and Mainland China collecting community.
Dr Kelvin Cheung, Paul Chow and Kin Choi Cheung total between themselves over 50 years of experience. They will be based in Hong Kong and bring their expertise in Chinese Banknotes, Coins, Medals, and Bonds and Share certificates.
Speaking of this major growth of Spink China, Olivier D. Stocker said "I am delighted to be working with this fine team. I have always known them as the "three musketeers" of numismatics and today I feel as proud as Cardinal Richelieu! They will work closely with Barnaby Faull for Banknotes and Mike Veissid for Bonds & Shares, both based in London. In a market regrettably plagued by fakes this is an essential step forward in continuing to raise our standards of professionalism and integrity. With these appointments and our existing philatelic expertise through Neill Granger and Anna Lee, I believe we have by far the strongest team when it comes for Chinese collectables."
Spink's newest consultants start working with us this week. To make an appointment, consign for our January auctions or get a free verbal valuation please don't hesitate to get in touch using the following email addresses:
- Mr. Paul Chow: [email protected]
- Mr. Kin Choi Cheung: [email protected]
- Dr. Kelvin Cheung: [email protected]

斯賓克高興的宣布,董事長兼首席執行官施德嘉先生 (Olivier D. Stocker) 搬到香港才一個月,我們今天就已有幸聘請到三位香港及中國內地收藏界知名的資深錢幣專家加盟斯賓克的大家庭。
合起來算,張庭煒醫生,周丕溥先生和張建才先生在錢幣上已共有五十多年的造詣了。他們將駐守於斯賓克中國本部,把他們多年的功力和專業知識繼續應用到中國紙幣,錢幣,勳章,股票及債券上。
就本次的重大突破,施德嘉先生說道"能讓我和這優良的隊伍合作實在是太讓人興奮了,我多年來都把他們三位認作錢幣界的"三劍俠", 而邀請到他們的加入,我現在比黎塞留還都驕傲呢。他們將與在倫敦的Barnaby Faull一起負責錢幣的工作,又和Mike Veissid一起處理的股票及債券事務。在目前令人遺憾的, 假貨充塞的市場裡,這是必需的一步,這是繼續提高我們專業身份和徳望的一步。
三劍俠的加盟, 加上我們的集郵專家Neill Granger 和李安娜小姐, 我相信我們現有的團隊是中國收藏品界裡最強的。"
最新加盟斯賓克的專家們本週開始上任,如需約見,敬請透過以下電郵地址聯繫:
周丕溥先生: [email protected]
張建才先生: [email protected]
張庭煒醫生: [email protected]
All images copyright Spink.
Click here for more information on Spink Chairman and CEO Olivier D. Stocker