We are proud to announce that the Government of Iraq specimen 50 fils, sold at Spink on Wednesday, is a world record for an Iraqi banknote at auction. This was one of a number of notes sold this week for record-breaking prices.
Today's African banknotes - the remarkable collection by Ibrahim Salem - attracted bidders from around the world. The collection included some of the most beautiful, intriguing African banknotes on the market, and resulted in an array of noteworthy highlights.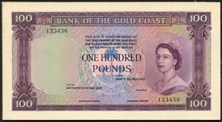 Lot 396
1953, Bank of the Gold Coast, £100
Price Realised: £10,200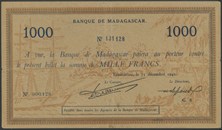 Lot 460
1941, Banque de Madagascar, 1,000 Francs
Price Realised: £6,000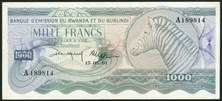 Lot 573
1961, Banque d'Emission du Rwanda et du Burundi, 1000 Francs
Price Realised: £6,600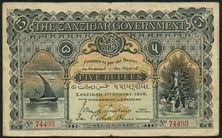 Lot 688
1916, Zanzibar Government, 5 rupees
Price Realised: £26,400
An important week for Spink concluded this evening with Banknotes of Bermuda, the collection by Dr. the Hon. David J. Saul, which has been described as "without doubt the blue riband of Bermuda Currency collections." The auction included some of the most impressive and unusual Bermuda Currency notes known to exist, and doubled its total estimate.
Highlights include a superb Number 1 set for the issue of 1952, which made a total of £83,400.
The sale broke numerous world records for Bermuda notes at auction, topped by an astounding £45,600 for the magnificent George VI, £5, serial number 1, which was estimated to raise between £10,000 and £15,000.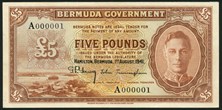 Lot 39
Bermuda Government, £5, 1941, serial number A 000001
Price Realised: £45,600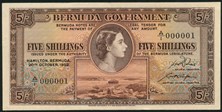 Lot 65
Bermuda Government, 5 shillings, 1952, serial number A/1 000001
Price Realised: £27,000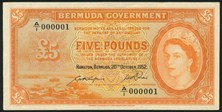 Lot 68
Bermuda Government, £5, 1952, serial number A/1 000001
Price Realised: £30,000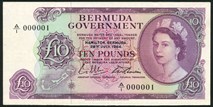 Lot 81
Bermuda Government, £10, 1964, serial number A/1 000001 first £10 ever issued in Bermuda
Price Realised: £18,000
It has been a significant, exciting few days not only for Spink but for banknote enthusiasts worldwide.
For further press information, please contact: Eleanor Ball, Email: [email protected] or Telephone: +44 (0)20 7563 4009. All images copyright Spink.
Click here for more information on Spink Chairman and CEO Olivier D. Stocker