Spink's October 9th and 10th New York Collector's Series sale features some of the most historically important items of the year. These include wire copy from one of the most remembered events in American history - the assassination of Kennedy, John Fitzgerald "Jack" (JFK) (1917-1963), thirty-fifth President of the United States.
The lot is an archive of Associated Press Wire Copy from November 22, 1963, covering 24 hours of news as it came into an Iowa newsroom that day over a news ticker. The news memorialized in the pages that precede this watershed event depicts "Camelot" in America. The electrifying words "PRESIDENT KENNEDY HAS BEEN SHOT" capture the tragedy that ended that era and initiated a time of fear and uncertainty.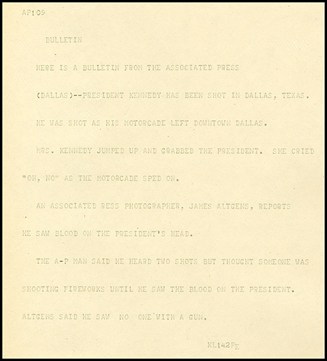 Lot 1052
Kennedy, John Fitzgerald "Jack" (JFK) (1917-1963). Thirty-fifth President of the United States (1961-1963), WW II torpedo boat commander, Representative, Senator for the State of Massachusetts, youngest president to serve, first and only Catholic president, and only one to win the Pulitzer Prize; assassinated on November 22, 1963 in Dallas, TX creating a traumatic watershed in modern American history. Associated Press (AP) Wire Copy of the Day of the Assassination and night before. Significant amount of wire copy from November 22, 1963 and night before covering a 24 hour+ period. Includes many of the bulletins and summaries of the day's events and an Advance of the speech Kennedy never delivered in Dallas. Havana Radio commented on the crash of a U-2 reconnaissance plane off Florida Wednesday...President Kennedy has been warmly received at his first two stops on a three-day tour of Texas...The Reverend Martin Luther King has told Danville, Virginia negroes to prepare for what he termed massive, but non-violent, direct action in the battle for equal rights. At the same mtime, he warned city officials: "We mean business"...A bedragged [sic] Russian diplomat is expelled from the Congo ...Kennedy said U.S. will get ahead of Russia in space next month when Americans fire what he called the largest rocket booster in the world A sirloin steak luncheon in Dallas also on President Kennedy's agenda, a diocesan representative said Kennedy didn't need special dispensation on this meatless day...twisters in Shreveport. Then: AP 109 - "(Dallas) - President Kennedy has been shot in Dallas, Texas. He was shot as his motorcade left downtown Dallas. Mrs. Kennedy jumped up and grabbed the President. She cried "Oh, No" as the motorcade sped on. An Associated Press photographer, James Altgens, reports he saw blood on the President's head" Also includes a separate section of Iowa regional news which likely ran off a different AP machine. Some very minor tears at start of wire, otherwise very well preserved. A Rare and Important record of a pivotal day in not only American but world history as it happened.
Estimate: $10,000-15,000
This huge October sale will also feature two of the most beautiful and significant gold coins ever minted in the United States; a Gem 1915-S Panama-Pacific Exposition $50 Octagonal , and a Very Choice 1907 $20 High Relief St. Gaudens. A nice selection of early Colonial coins contains a Choice Uncirculated 1791 Small Eagle Washington Cent.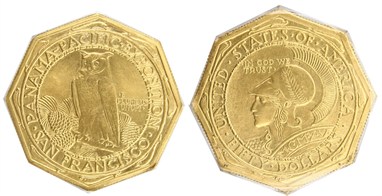 Lot 751
Exceptional Gem 1915-S $50 Panama-Pacific Octagonal
Estimate: $100,000-150,000
A collection of rare and important pieces from the Verplanck archives includes examples that document early fiscal transaction that may have taken place underneath the legendary Buttonwood Tree. Two of the most significant pieces are a 1789 share certificate from the New-York Manufacturing Society, and a rare 1791 "RECEIVABLE" for "BANK STOCK" in the Bank of New York.
For New York-history buffs, the featured Verplanck archives are a treasure-trove. Related directly or indirectly to the Verplanck family, the documents range from the 17th to 19th Century, and are largely concerned with NY and the Hudson Valley. Among the land documents are those tied to the Hardenbergh, Wawayanda, Rombout and Schuyler Patents; the town of Fishkill in Dutchess County; letters patent for land in the Socialborough Patent (Vermont), Charlotte (Washington) County and late 17th Century deeds for lower Manhattan. A Ben Franklin-signed vellum document is also included.
Choice Civil War items including paper money, bonds, autographs, books, tokens and coins are well represented in this sale. A small offering of Americana books includes Marshal's Life of Washington (1804-1807) and the first hot-pressed edition of Jefferson's "Notes on the State of Virginia".
Obsolete bank note collectors will have the opportunity to bid on a comprehensive collection of New York and Massachusetts contemporary counterfeits and altered notes, and a rare and desirable group of New York scrip notes. A rare U. S. Treasury Specimen book contains a hundred beautiful proof vignettes, several of which were used on Federal paper money.
World Coins features an offering of rare Mexican 8 Reales, Greenlandic coins, tokens and currency, Polar exploration medals and an important 1884 Chaco Expedition Gold medal awarded to Leopoldo Arnaud, head of Argentina's Scientific team. Continental and Colonial Currency, College Currency, Fractional Currency, MPCs, World Paper Money, and a nice selection of bonds and shares are also included in this wide ranging sale. Federal paper money collectors will have the opportunity to bid on a rare $50 1891 Silver Certificate, an Uncirculated $1 Educational, several scarce National Bank Notes, and an assortment of significant error notes as well.
A compact offering of bonds and shares includes a rare State of North Carolina Cotton Bond, Brooklyn Traction Company discovery pieces, a Mason City & Fort Dodge certificate issued to and signed by James J. Hill, an extraordinary comprehensive archive of Pitcairn Aircraft certificates, and many others.
Speaking of these remarkable two days, Spink USA's Director of Numismatics Stephen Goldsmith has said: "this is a well-balanced sale with something for everyone."
Please note that Internet users will now have the ability to enjoy enlarged images of many of the items in this sale. Simply select an image then click on it and an enlarge image will appear.
This sale also features the new Spink Live. You will find registration much easier and Internet bidding fast and efficient. Click here for Spink Live and to view the catalog online.
For more information on the sale please contact Spink USA:
Email: [email protected]
Tel: +1-212-262-8400
Fax: +1-212-262-8484
Click here for more information on Spink Chairman and CEO Olivier D. Stocker